Hey, Etsy shop owners! Are you wondering how to draw more people to your Etsy shop? Do you want to advertise, but you wonder how to do so with little to no budget for it? Pinterest marketing is the way to go!
Last year, I started devouring as much information about Pinterest as I could.  I was super curious about ads that I had seen on Pinterest, noticed that bloggers were designing fancy graphic images to use on Pinterest, and started to wonder what advertising my Etsy shop on Pinterest would look like.  There are a ton of articles about blogging and making money using affiliate marketing on blogs, but I wasn't finding much information from fellow Etsy sellers about advertising Etsy shops. With the addition of the Social media marketing feature on Etsy, I knew there must be a way to advertise well and with class.  With a bit of fiddling around, I had my AHA moment!! 
I can use Etsy with Canva and Pinterest to create a rich pin advertisement for my shop!
I am going to walk you through in three posts so as not to overwhelm you with too much information at once, so be sure to read the following two posts that explain further so you can connect the dots and get your first pin up on Pinterest to advertise your Etsy shop.
First of all, if you have only experimented with Pinterest for personal use, you will want to know a little bit about rich pins. A rich pin can be a product pin, recipe pin, app pin, or article pin. A rich pin provides up-to-date pricing on products, lists of ingredients for recipes, article headlines and authors, and direct links.  It is "rich" because it includes more information, generally, than a regular pin, and it keeps current with the changes that may be happening to the link to which the pin links back, such as price changes. So, if you update prices in your Etsy shop, your pin will automatically show the updated price in the pin description without your needing to go to the pin to make edits.
For Etsy purposes, rich pins are product pins which give current pricing and more information about where to make the purchase. Besides providing current information, it has also been my experience that rich pins show up more frequently in a search feed.  I don't know for sure if it is truly a fact, but when I search something in Pinterest, I often notice that rich pins are the tops pins to show up in my feed. Definitely I have noticed that, of my own pins on my Pinterest account, my rich pins get far more clicks than my non-rich pins. 
In any case, a rich pin will always show the current price and will bring a potential buyer directly to the correct Etsy listing, which means you won't have people clicking on your link, and then clicking away when they realize either that the item has gone up in price or that they are not directed to the correct site. Here are a couple of samples of rich product pins on Pinterest. One is a sample from Pinterest as it looks on a mobile device, and one is mine as it looks on a computer: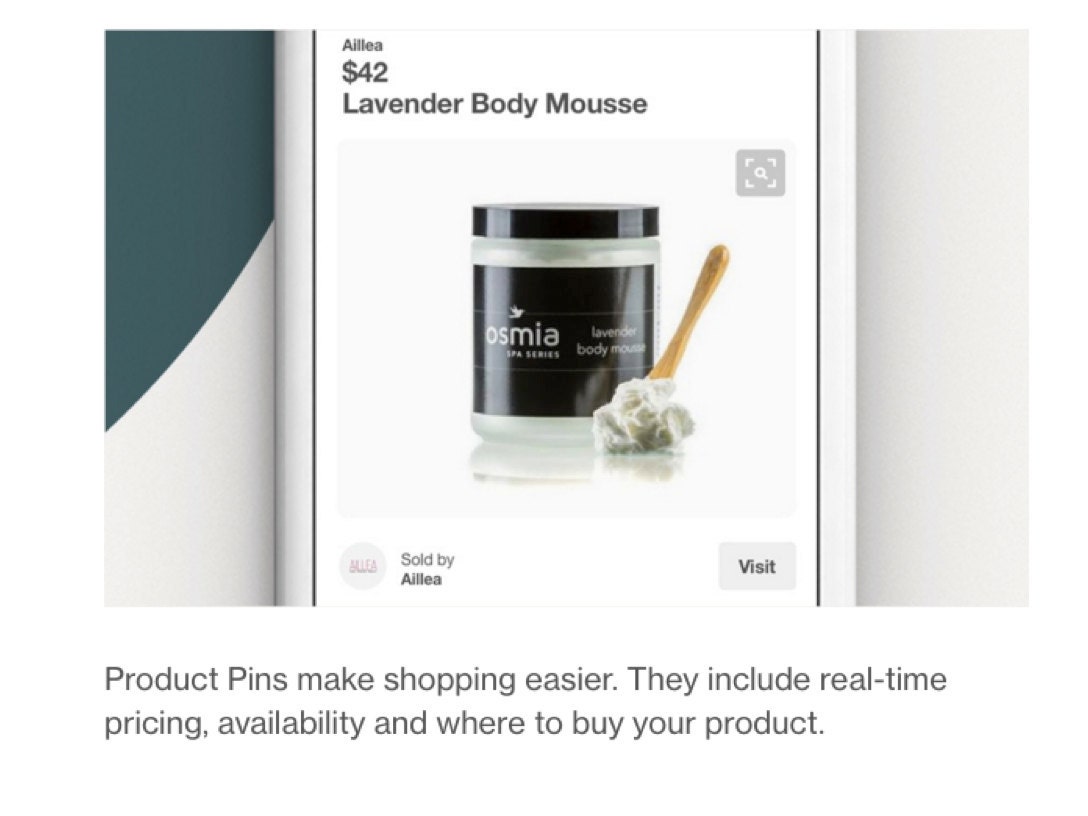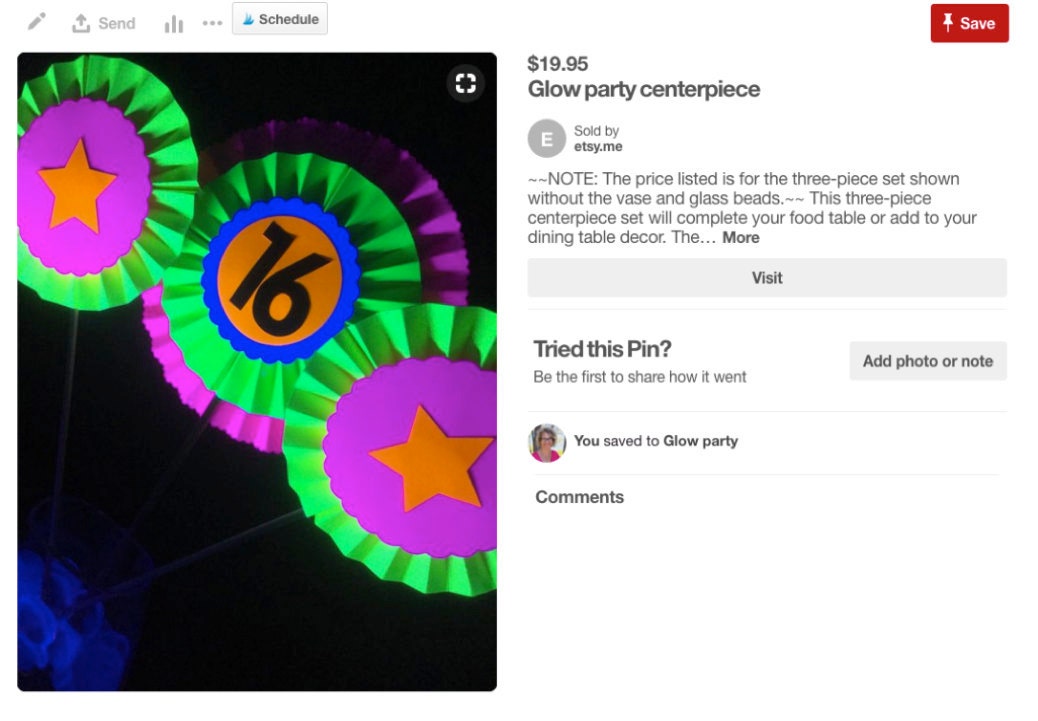 The first thing you are going to want to do is set up, or change, your Pinterest account to a business account. Why? Well, for starters, you will be able to advertise your Etsy products professionally, which is what this whole article series is about.  But more than that, you will be able to see how many people are seeing your items, clicking on them, and saving them. You will have access to analytics to see to which groups of people your items are appealing, as well as see what items and ads are the most popular.  You will almost certainly see increased viewing in your Etsy shop from people clicking on your Pinterest ads. 
In just one month, I have experienced an increase of more that 25% in visits, views, sales, and revenue.
If you don't already have a Pinterest account, or you rarely ever use Pinterest and hardly have anything pinned so far in your account, you will want to start from scratch and create a new Pinterest for Business account (see further below if you want to convert your personal account to a business one, rather than creating a new one).
Here's how:
Go to www.pinterest.com and click on "Continue as a business" at the bottom of the Welcome to Pinterest banner.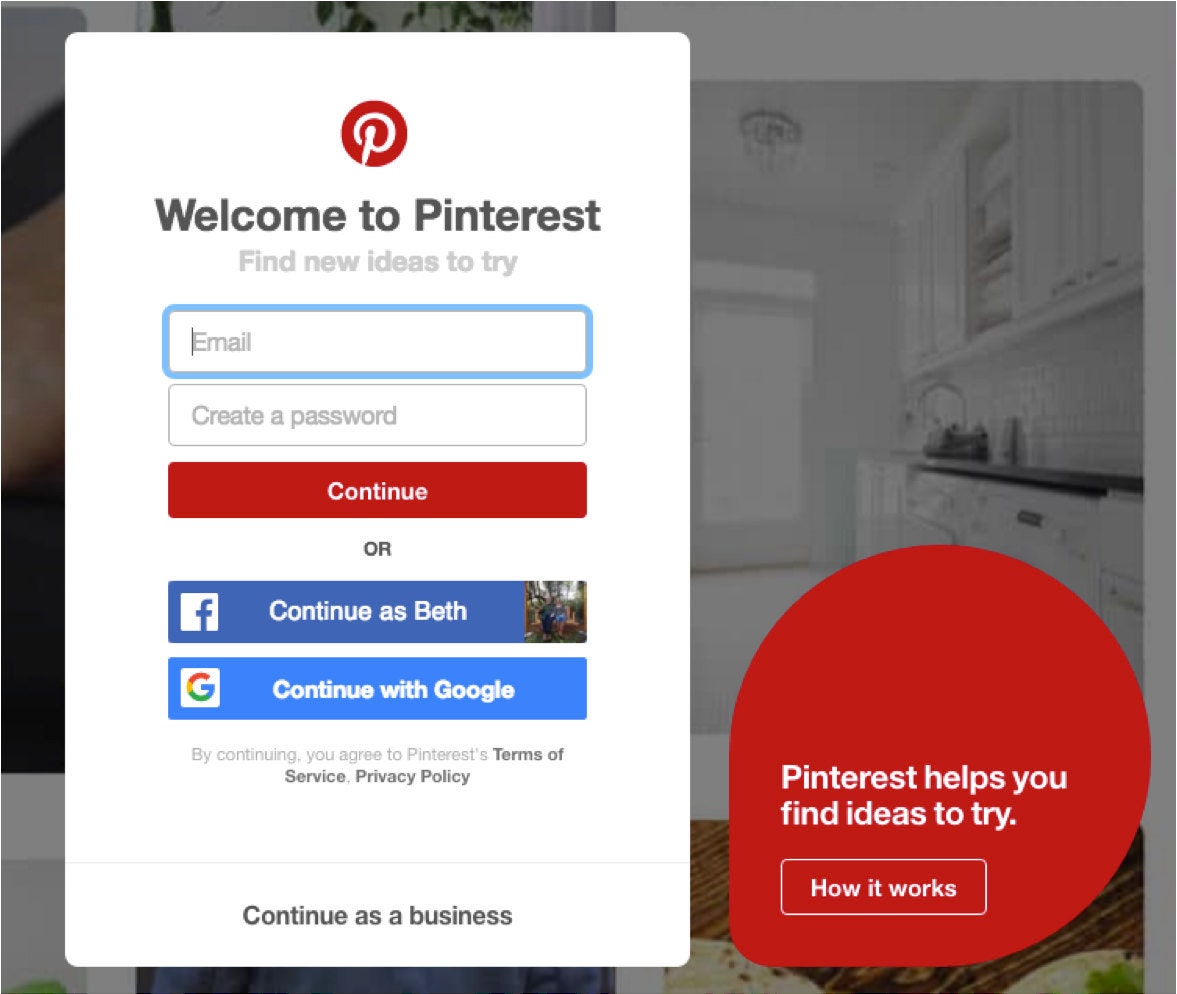 At the next screen you will see this: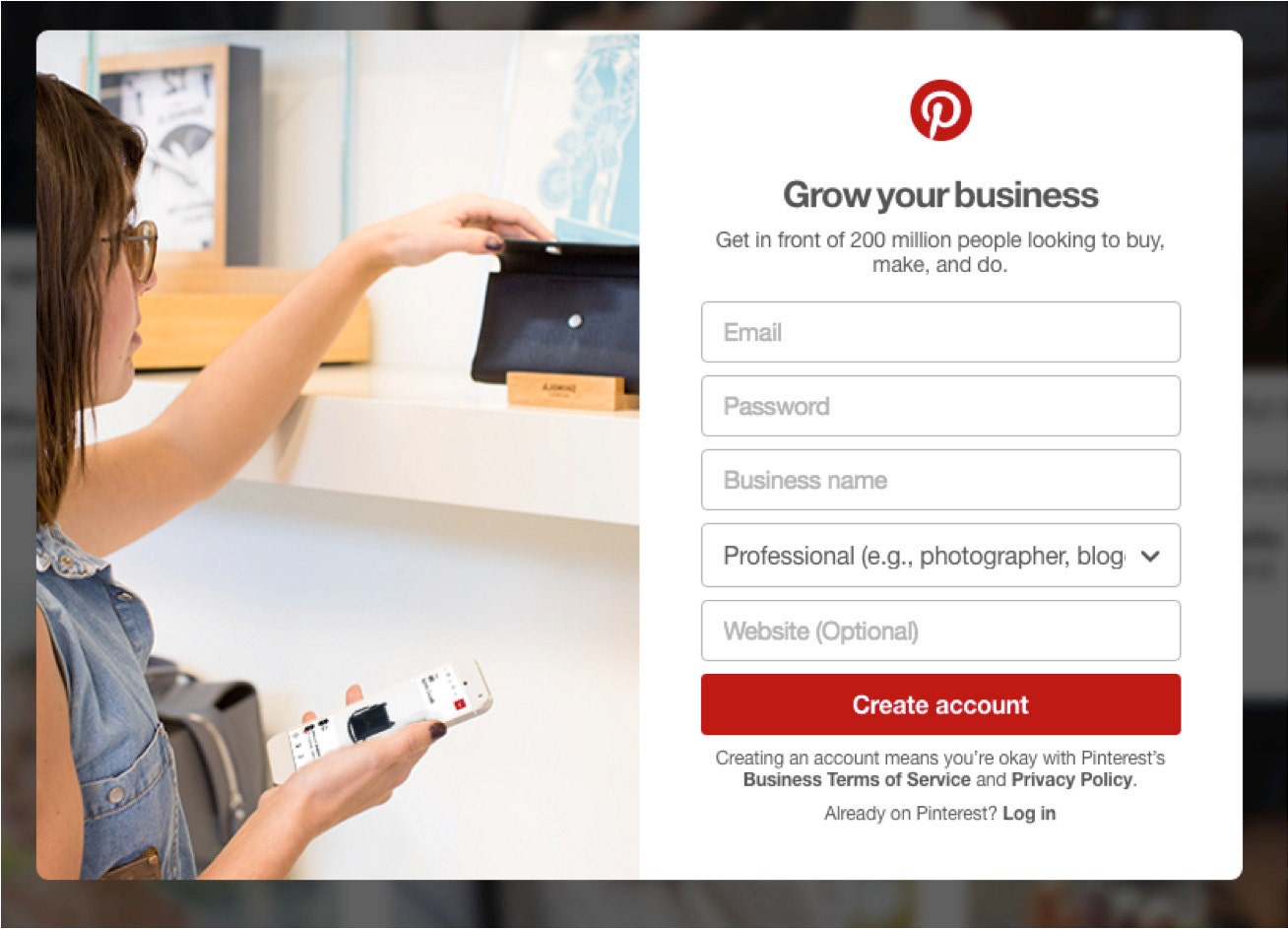 Enter your information in the boxes, and click "create account." 
Start creating boards for your site, keeping in mind that you want boards to which you can pin your own items, as well as other people's.  So, for example, if you make jewelry, you might want to create boards like, "Dressy jewelry, "Casual jewelry," "Necklaces with T-shirts," "Red earrings," and so on.  If you are a vintage collector, you may have boards like, "Vases from the 20's," "Depression Glass," "Winnie the Pooh memorabilia."  I sell paper party products, so some of my boards are, "Baby shower decorations," "40th Birthday," "4th of July banners," and "Glow party." To create boards, you will need to click on "my profile" in the far right corner under your profile picture.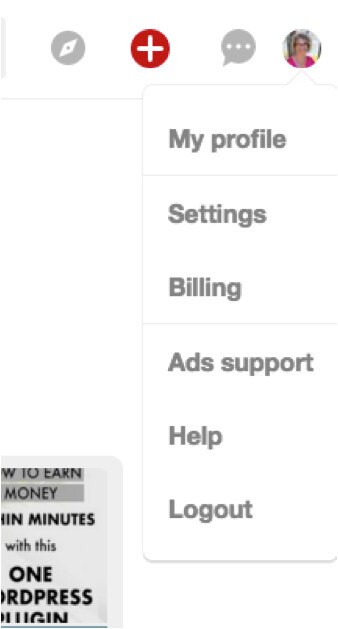 Then click on "boards."  

From there, you can click on "create board"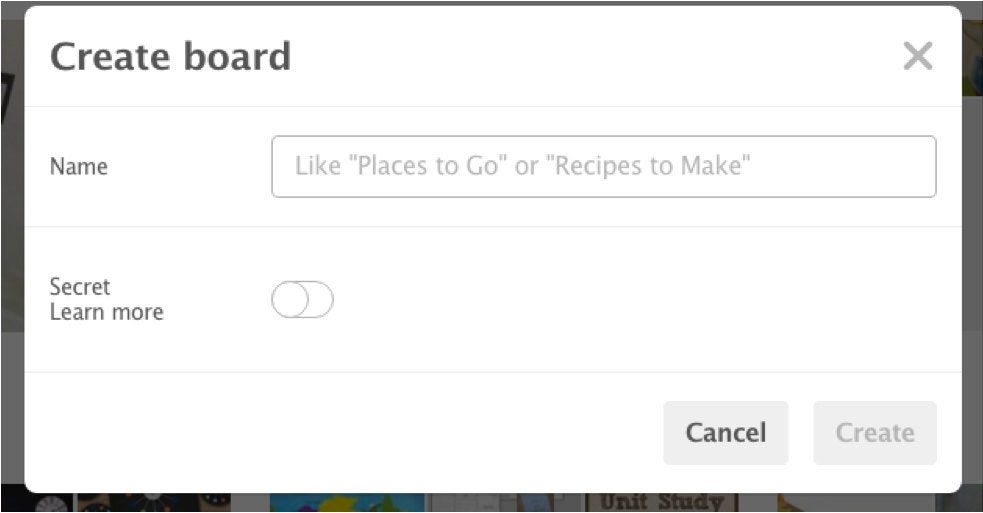 and start naming and creating some of the boards you want to have on your account, keeping in mind that, in the next two blogs, I am going to teach you how to create professional-looking pins with your Etsy pictures from your shop.  So your boards will want to match up with something for which you plan to make a pin.  For example, I would create a board called "Anniversary decorations" so that I can create and add a pin for the anniversary banner I just posted in my Etsy shop.  Don't click the "secret" button.  You want people to see your boards and pins. 
I like to follow the rule that for every three pins I pin of my own items, I pin one that is not my own.  Search for items that fit into the boards you have made so you can fill them with not only your own products, but others, too. 
If you already have a Pinterest account that has a lot of boards and pins that relate to your business, you will probably want to convert your personal account rather than creating a new one.  Even if you have some boards that don't really relate to anything in your shop (for example, I am a Colin Firth fan and have a board with a lot of Pride and Prejudice and Bridget Jones' Diary pins...lol), you will probably find it easier to convert the account and just let some of those random boards exist in your Pinterest for Business account. You can also set these random boards to "secret" so that your account looks cleaner and more focused on the things you sell in your shop.
You can easily convert to a Pinterest for Business account with these simple steps:  
Sign in to Pinterest.
Once you are logged into your account, find the three stacked lines in the upper right-hand corner and click on them. A menu will pop up. Scroll to the bottom, and click on "business."
When the next page comes up, you will be asked, "do you wish to change to a business account?"
Click yes.  If your account is brand new, you will first see a button that says, "Join as a Business."
You will be asked to provide your business name, type, and website. Here you can add your Etsy shop website.
Click "Done."
Now you will have access to analytics that will help you determine your top sellers and help you discover what kinds of buyers are looking at your items.  As you start creating pins and pinning regularly, I am sure you are going to notice the increase in traffic to your Etsy shop, as well. 
One last thing... Pinterest will ask you to verify your domain.  With a blog site or private domain you are able to do this.  With an Etsy shop, however, you are only able to verify an Etsy Pattern site.  No worries, though.  Even without verifying a domain, you still have access to a lot of new information and capabilities that will help your shop grow. 
In my next post, I'll continue by walking you through how to create a beautiful, professional pin to draw people to your Etsy shop for a closer look. 
For future reference, create a "Tips for Etsy Business" board in your Pinterest account, and pin this blog post to it so you can refer back to it, and so others can find and use it in running their own Etsy shops. 
I'd love to hear your comments! Let me know how this post has helped you by adding a comment in the disqus box. 
Also, don't forget to submit your name to my email list by adding your email in the box at the bottom of the post under the Disqus box. That way you can be notified of my following posts with the next steps for creating your gorgeous Etsy pins. Rest assured, I never give your email address to anyone else, and I never spam your email box with anything but update notices to my blog. I'm looking forward to connecting with you!