Thanks for following along as I walk you through the process of uploading a rich pin to Pinterest to feature your Etsy items!  I hope the past two posts have given you interesting new information that you can apply over and over as you combine Etsy with Canva and Pinterest to showcase your shop items and potentially grow your business.  
If you haven't read the last two posts, you will want to start with "How to Set up a Pinterest for Business Account to Advertise You Etsy Shop" and then "How to Use Canva to Create A Stunning Graphic Image to Market Your Business On Pinterest."   
These two posts will prepare you for this next step to feature your Etsy shop item as an attractive rich pin on Pinterest. You should now have a Canva image that you created using instructions from my last post.  Make sure you know where to find it on your computer. Then, go to your Etsy shop and log in. Go to Shop Manager at the top.  

Then find Marketing and, from there, Social Media (which may or may not still say "new" next to it).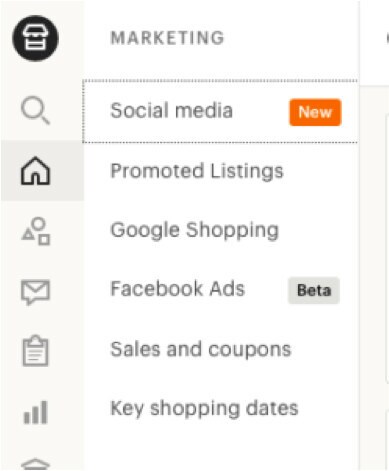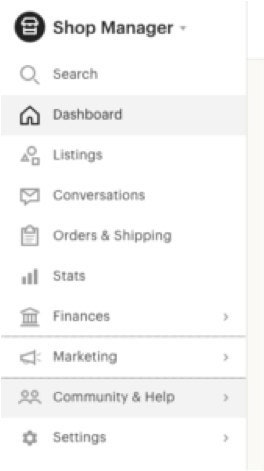 Your newest items will show up on a screen that looks like this: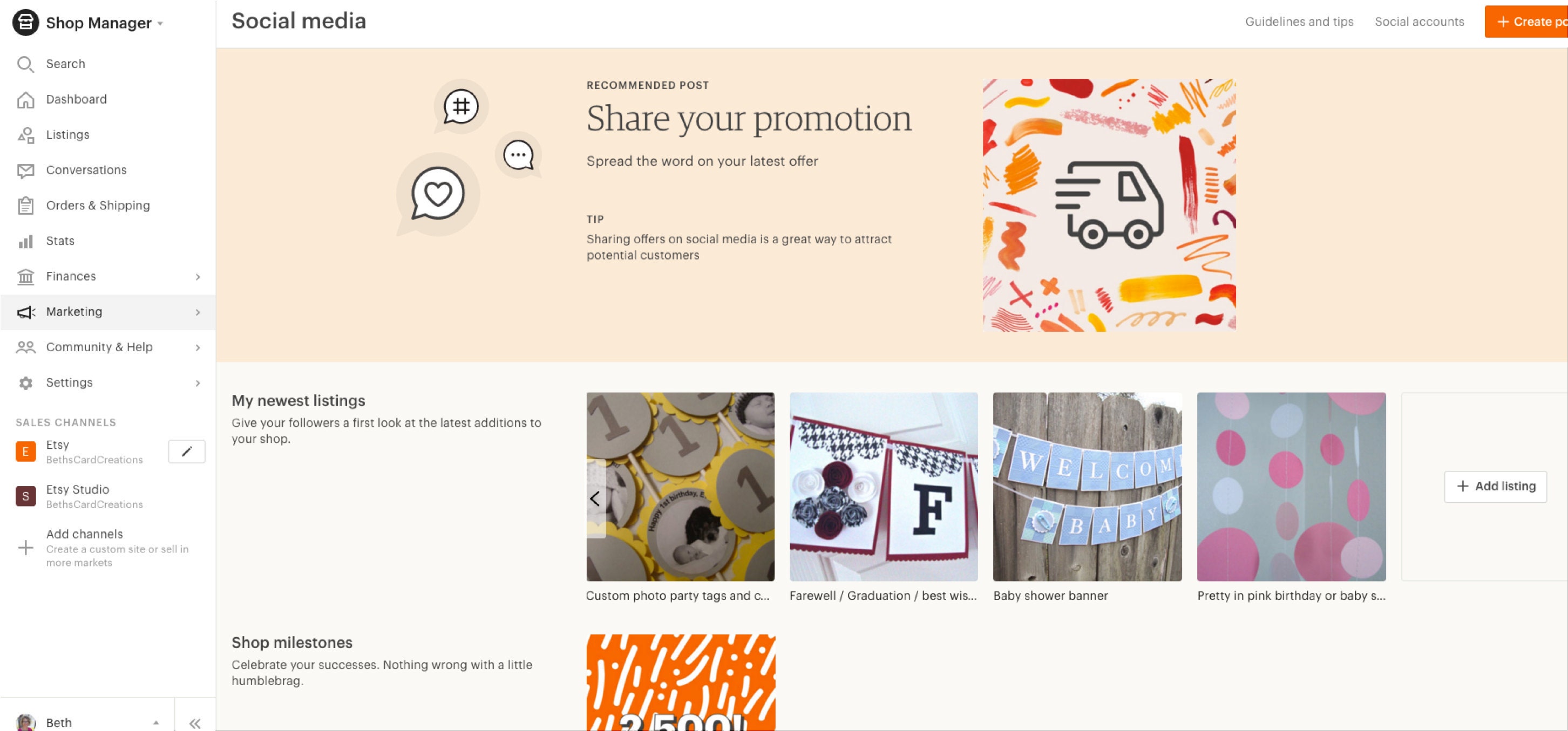 Choose the item that you chose for making your Canva design.  I am choosing the Welcome Baby banner. Click on Share.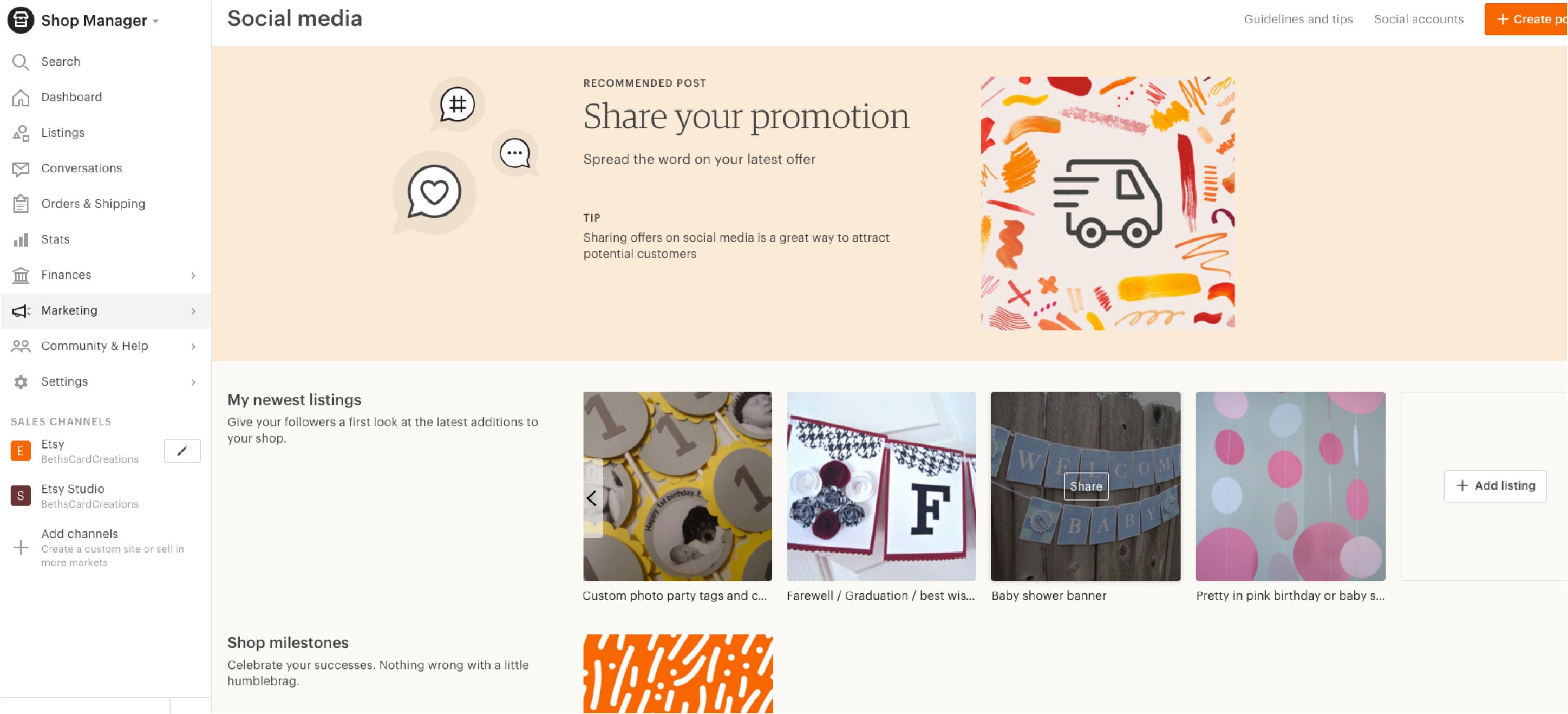 You will be brought to the next screen which shows your item with the pictures used in your listing.  There is also a blank box with a plus sign in it.  Click on that so you can add the image that you made in Canva.  Upload the picture you made in Canva by selecting it from your computer file.  Then click on the words in the Start with this caption box.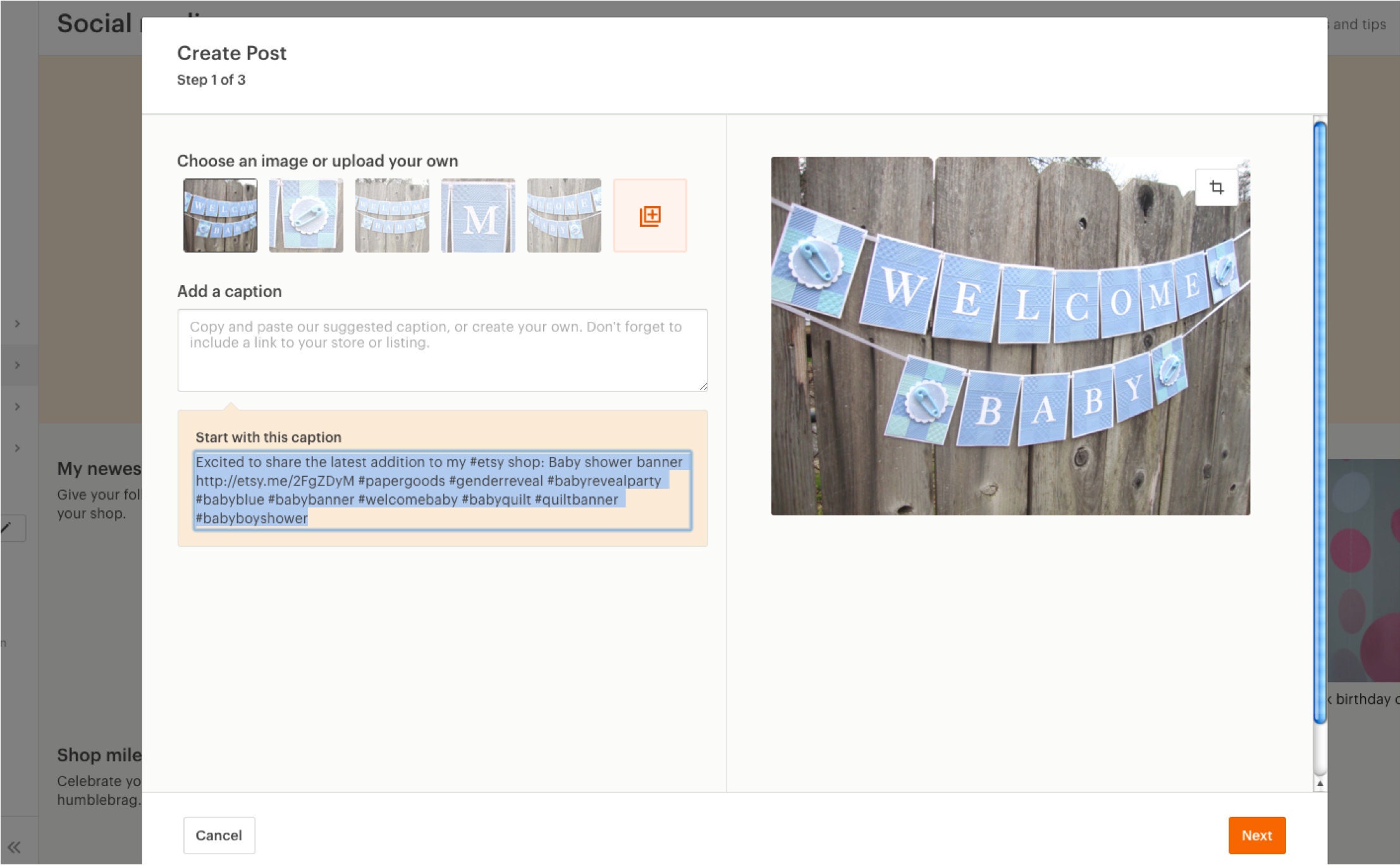 Copy and paste the words into the Add a caption box. It is important to grab the link to your item, but the rest of the words and hashtags can be changed, as you can see that I have done below.  It is good to use as many descriptive words as you can in the caption box because this will contain your keywords that will go into the description box in Pinterest. Once you are done, click the orange box that says Next.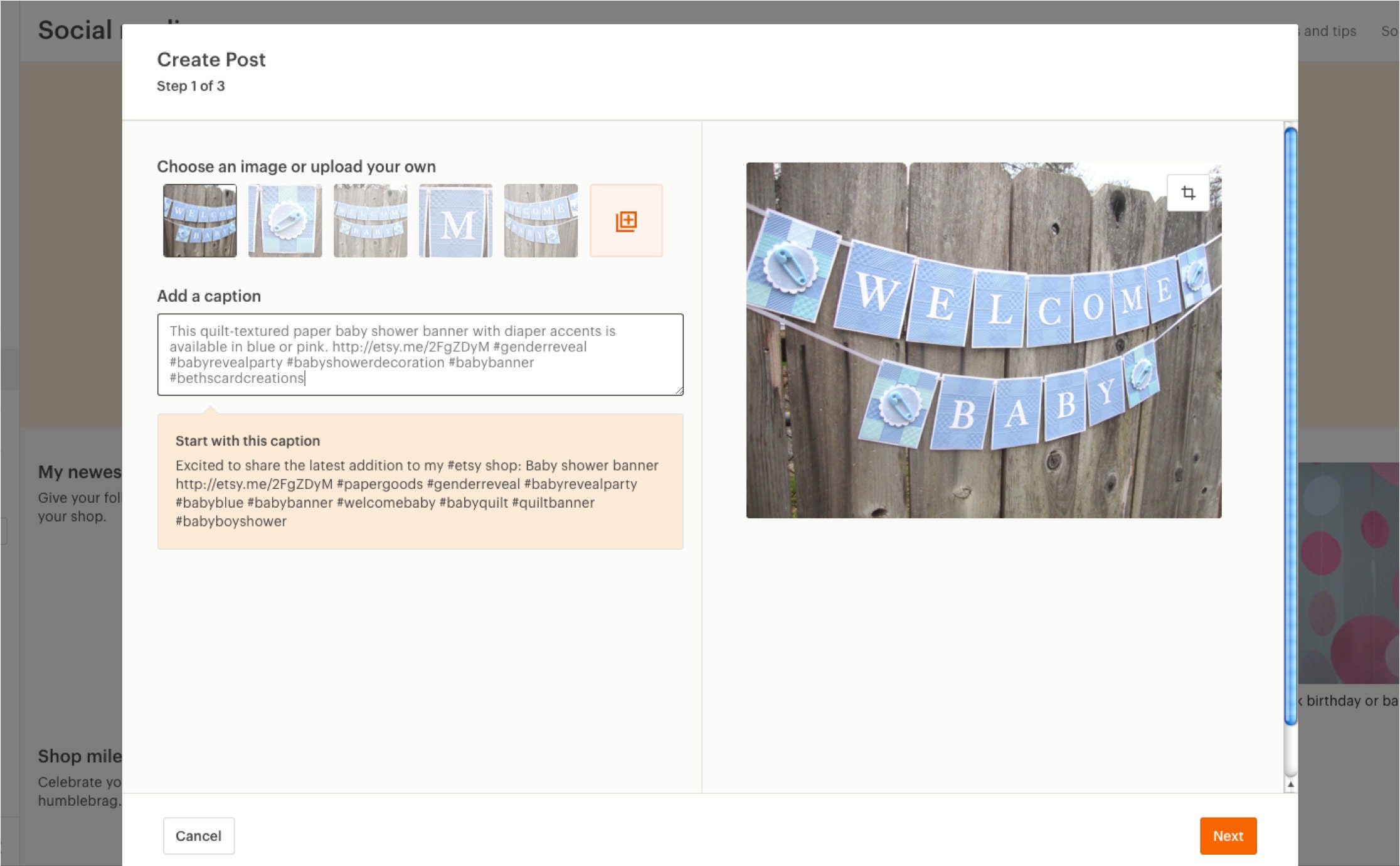 At the next screen, you will have the option to post to Facebook, Pinterest, Twitter, and Instagram.  Since the Canva image you made was made to Pinterest image scale, just click on Pinterest.  You may also want to click on Facebook if you have a business page for your Facebook account.  But I don't recommend using this image for Twitter or Instagram.  If you want to post to Instagram, I suggest going back to instructions from the last post to create a Canva image specifically for Instagram instead of Pinterest by selecting "Instagram image" from the top menu and then following along with the rest of the instructions.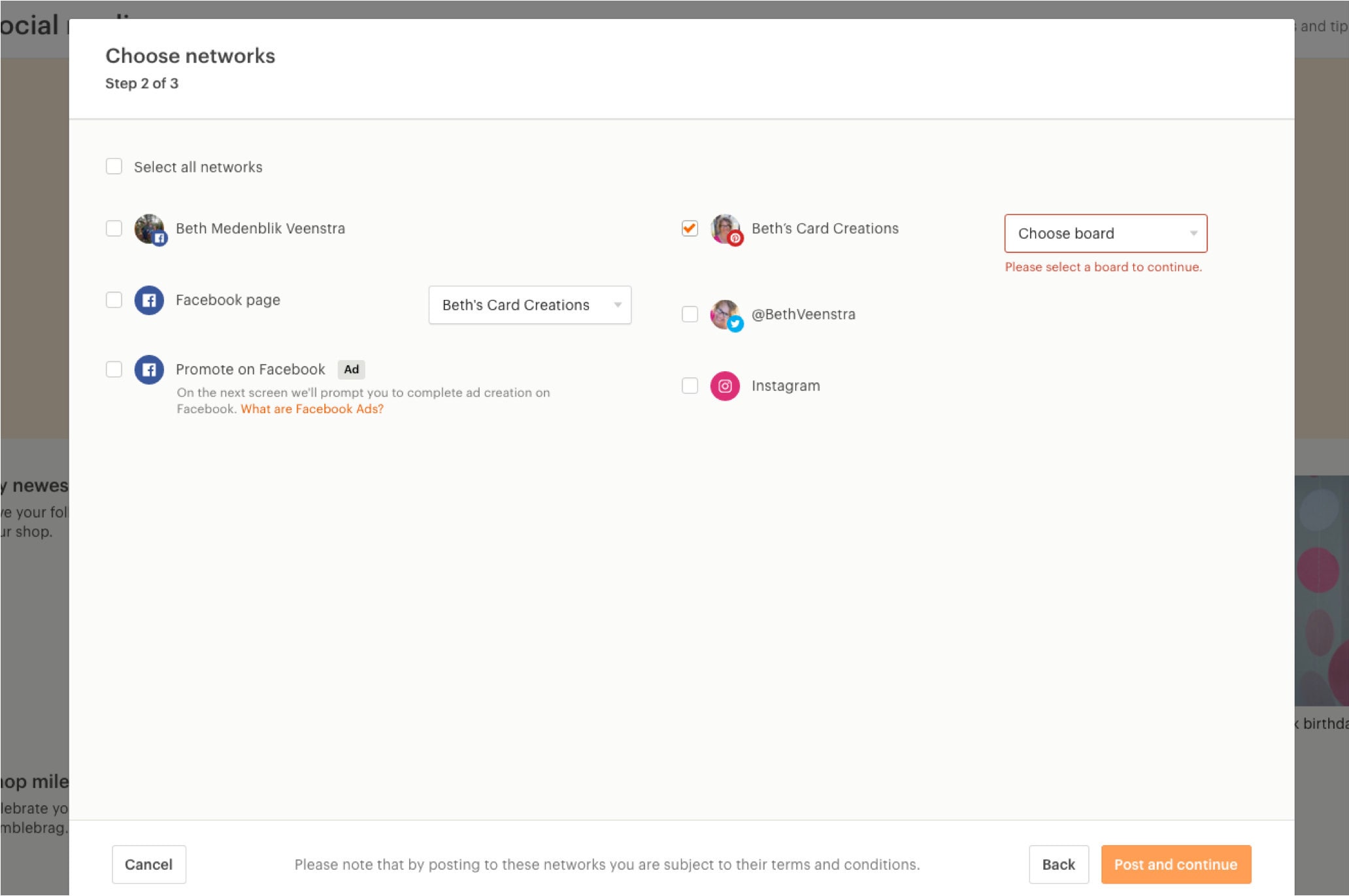 You will be asked to choose a board, which you should have made when you followed the instructions from the first post in this series about How to Create a Pinterest for Business Account.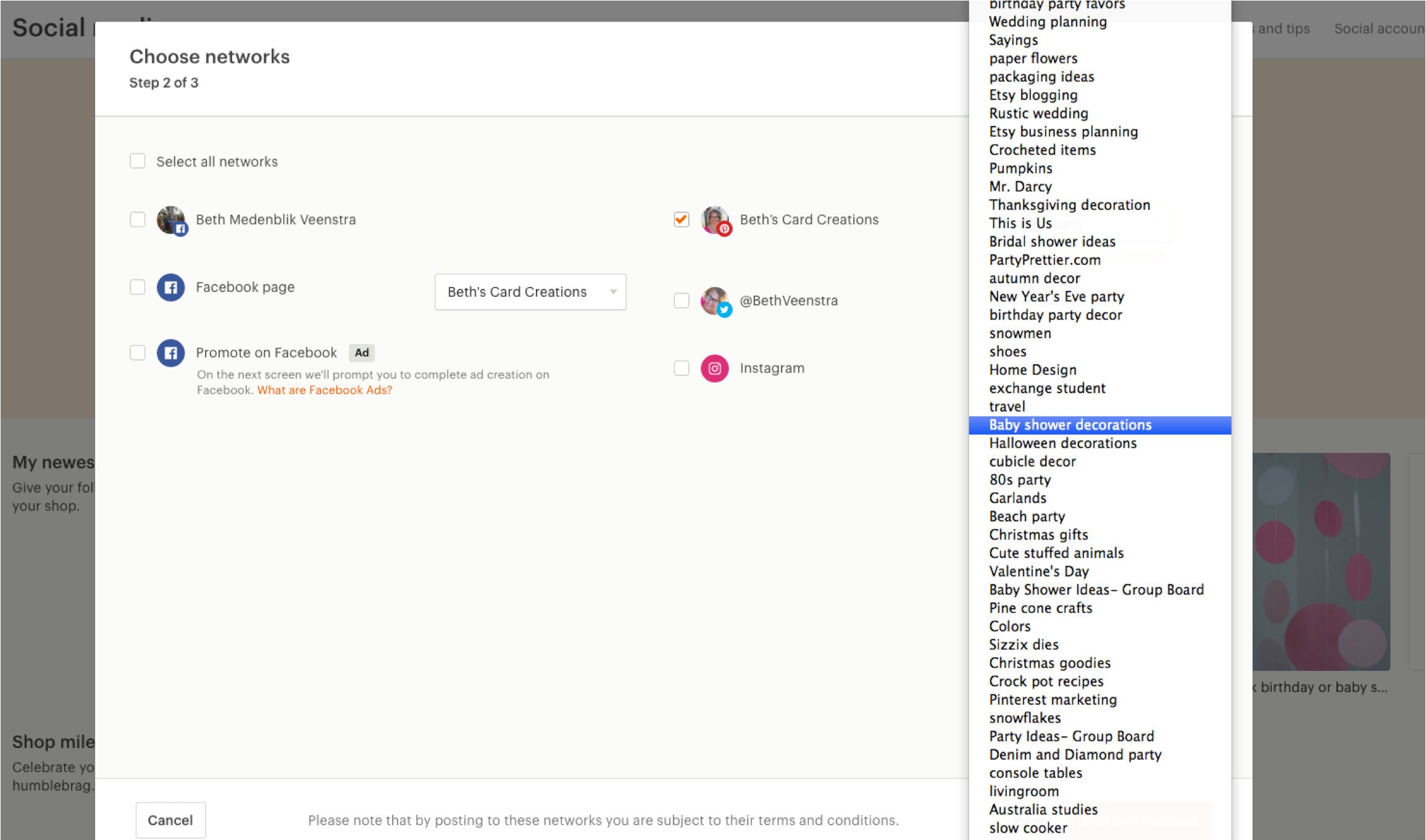 Choose your board, and select Post and continue in the orange box at the bottom. Now go to your Pinterest page and have a look at your new pin!  Click on it so you can see how it shows up with the keywords and link to your shop with the current pricing.  If you want to edit the description to include more keywords, you can click on the pencil symbol to edit.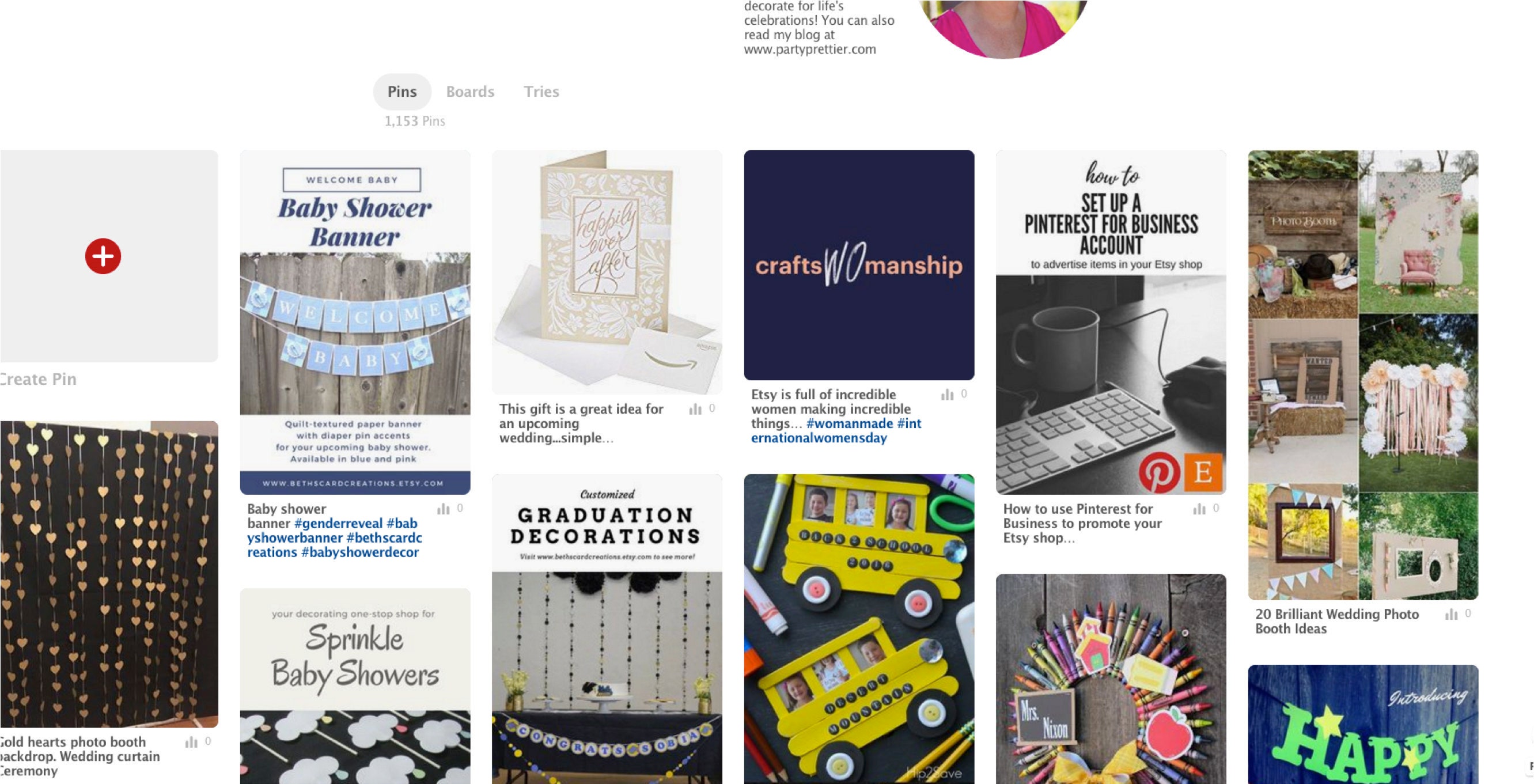 Once you have designed a Pinterest image for one of your Etsy shop items, do the same for more of them.  Take a look at your Social Media page in Etsy to see what is showing up as your newest listings, and choose one of those items.  If you don't see an item showing up there for which you would like to create a Pinterest pin, but it is already a listing in your shop, you can always find that item in your shop and either "copy" it or "renew" it (which you might want to do if it is close to expiring anyway).  Then refresh your social media tab, and you should see the listing you want to use show up in your "newest listings" section.  Obviously, you can also add a new listing to your shop and then use that listing to create a Canva design for pinning on Pinterest. 
My goal has been to create two new Pinterest images per week and to pin them to at least three different boards in my account.  For example, the Welcome Baby Banner is pinned to my Baby Shower Decorations board, my Banners board, and the Baby Shower Ideas group board that I have joined (subscribe to my blog to learn more about Pinterest group boards in my upcoming posts). Try to avoid pinning the same image to the same board.  Unfortunately, I am guilty of this, but I am trying to clean up my boards so this doesn't happen anymore.  There is nothing wrong with it for a personal account, but it doesn't look very professional when you are using a Pinterest for Business account. 
One last thing I would like to recommend is to pin regularly on Pinterest once you have designed several pins.  Don't forget to save about 2 pins of other people's information for every 5 of your own pins so that your Pinterest Business Account doesn't appear spammy and just full of yourself.  It is important to recognize others good ideas on your boards. Because it can be time-consuming and sometimes inconvenient to find a computer or grab your phone to pin to Pinterest, I highly recommend using a scheduler like Tailwind.  I am currently using a free trial of Tailwind, and I love it!!  I plan to join up once my trial runs out.  Here's why I love it:  
Tailwind automatically figures out for me what kind of audience looks at my items and what times are most popular for my audience to be looking.  So,      for example, my Pinterest account appeals mostly to women between the ages of 25 and 50.  The average times that they are on Pinterest are around 6 a.m., 2 p.m., 6 p.m., and 9 p.m.  Tailwind sets up a schedule for me to assign pins to fit into these time blocks.
Sometimes it is hard to find a computer or grab my phone to pull up Pinterest and post pins right at the times when I know "my audience" will be looking. With Tailwind, I can set aside a 15 minutes block of time at night to schedule out pins for the next several days.  If and when I have extra time, I can post other pins in between, but this maintains some constancy to my pinning.
Tailwind only  costs $10 per month! I am extremely frugal, and I try not to buy things I don't absolutely need for my business.  But I've noticed that my      business revenue from my Etsy shop was up $400 last month, and this month      I have already earned $500 more for the month than I did this time last year.       The only difference to my shop has been more consistant posting on      Pinterest.  So I am of the opinion that, if I pay out $10 per month to earn $400 to $500 more, that is a great deal!
I don't like to include many affiliate links in my posts, but I do like to include links for items I use and recommend.  So, if you are interested in trying Tailwind, click here to start your free trial and see if it makes a difference for your Etsy business.  I earn a small commission, at no extra cost to you, if you do decide to sign up.  
Thanks for reading!  As always, I welcome your comments and suggestions.  Follow me on Pinterest by clicking here to see more of my Canva-designed Pinterest pins. 
I'd also love to see some of the designs you are making, so include your Pinterest page in the comments section. I plan to write more Etsy business tips about packaging, branding, time-management, and Pinterest group boards, for starters.  Don't forget to subscribe by adding your name to the link at the very bottom. If there is a topic related to your Etsy business that you'd like me to address in a future post, let me know by writing in the Disqus box below, and I'll see if I can be of help.