It feels like school just started.  Honestly. I cannot believe that in about six and a half weeks my son will be done with another year of school and home for the summer.
As school winds down, graduation party-planning winds up for some. Having had high school graduation parties for two of my own kids within the past five years, I know the pressure of decorating to make the party extra-special for the graduate.
Here are five tips for adding those special touches that will make your party memorable for your guest of honor.
Use decor in school colors
This may seem like a no-brainer, but unless your school decor is something really common like red and black or navy and yellow, school decor in custom colors can be hard to find at a typical party store.
Thank goodness for Etsy and custom-designed orders! Silver and blue, Teal and black, and even CMYK and Pantone shades can be matched.
I do mostly circle garlands in my shop, as shown in this graduation display below: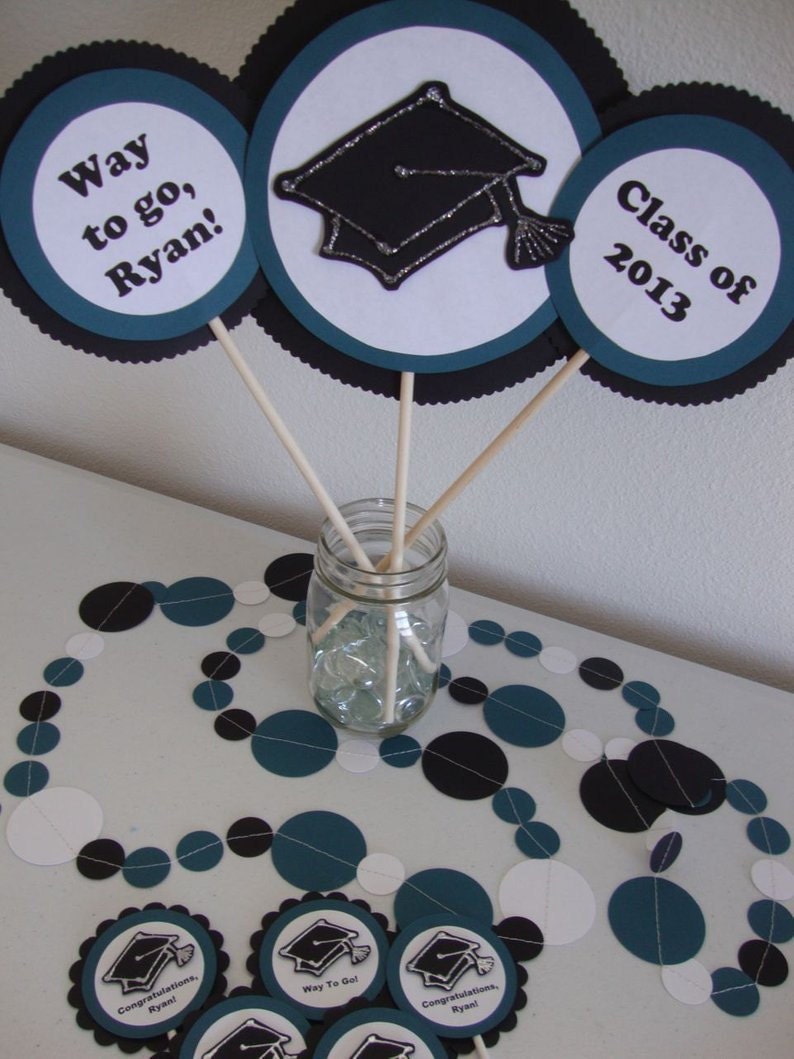 But if that is not your favorite shape, I can do square garlands,
triangle bunting-style garlands, star garlands, and even hexagon garlands.
Customize banners and centerpieces with the school logo, mascot name, degree earned or child's name
Using your graduate's name in a congratulations banner, using the school logo, or using the mascot is a nice touch that makes a keepsake-worthy banner.  Customizing it to show the degree earned is another way to specialize decor.
Check out all banner styles here.
Centerpiece ideas can be found here.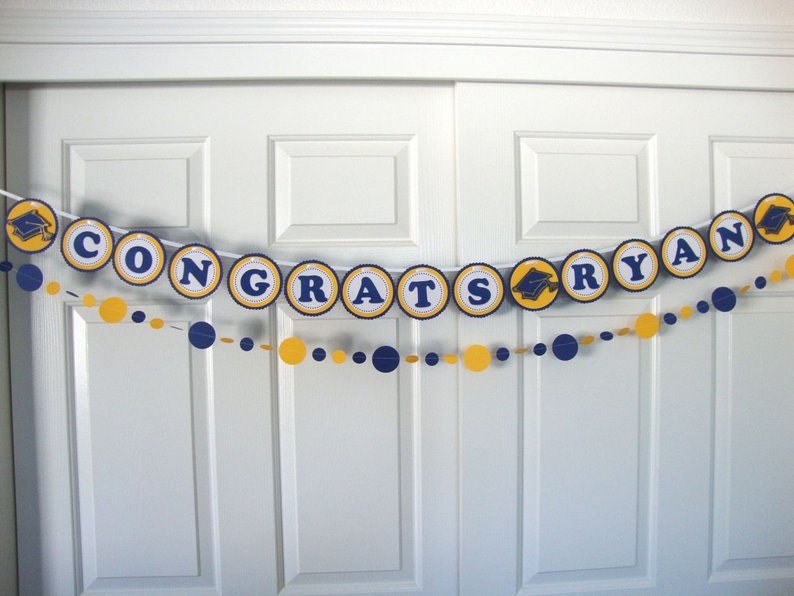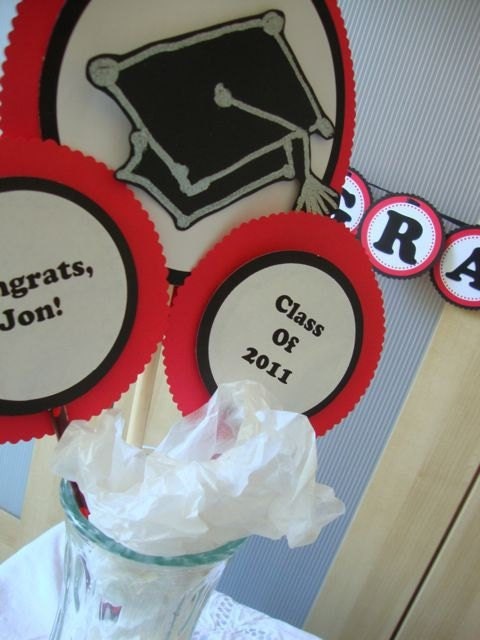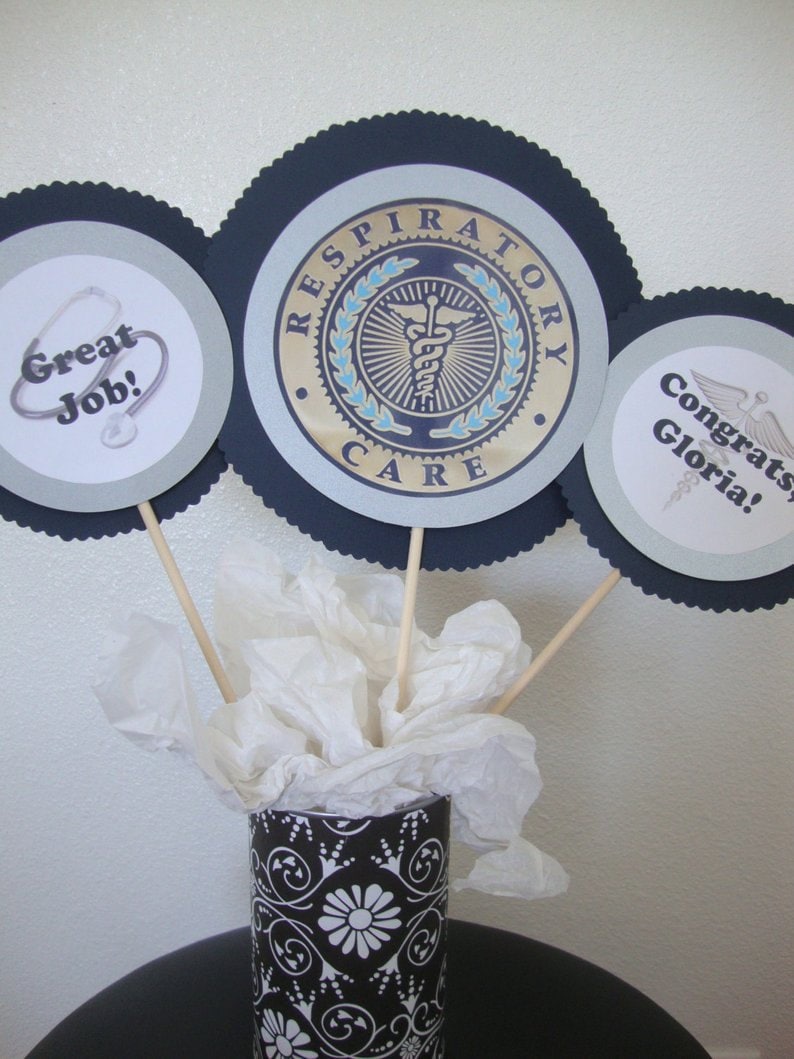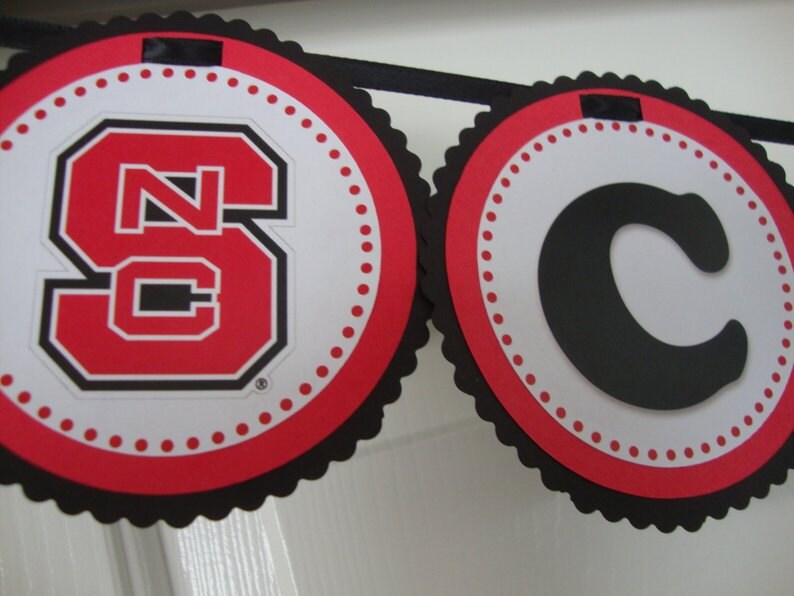 Use school pictures of the graduate in centerpieces or cupcake toppers
Who wouldn't like having pictures of themselves at their party...especially ones in glitter...oh, my! Everything is better with glitter!
Photo cupcake toppers are perfect for decorating the cupcakes, and photo stick centerpieces are a great addition to the tables where people sit to eat or to the buffet table as decorations. Add in rolled paper flowers in school colors with the photo centerpieces for a beautifully unique display. My photo centerpiece features Audrey Hepburn (lol), but you can use your graduate's pictures.
Use school pictures from Kindergarten through 12th grade (or college) for a fun touch. If glitter is a little bit too extra for you, just plain card stock in school colors or your child's favorite colors is also great.
And if you'd rather not use pictures for your cupcake toppers, graduation caps are also cute.
Clikc here to check out all cupcake topper ideas here.
Click here for all centerpiece ideas.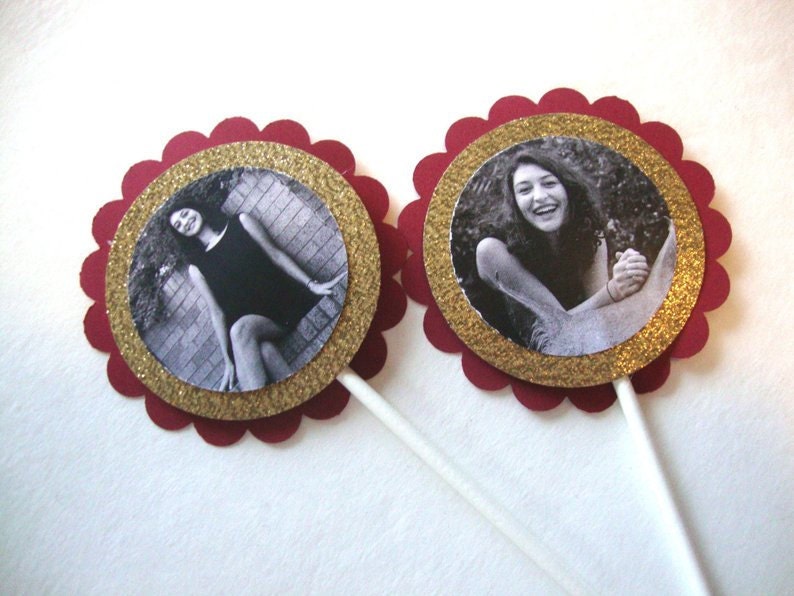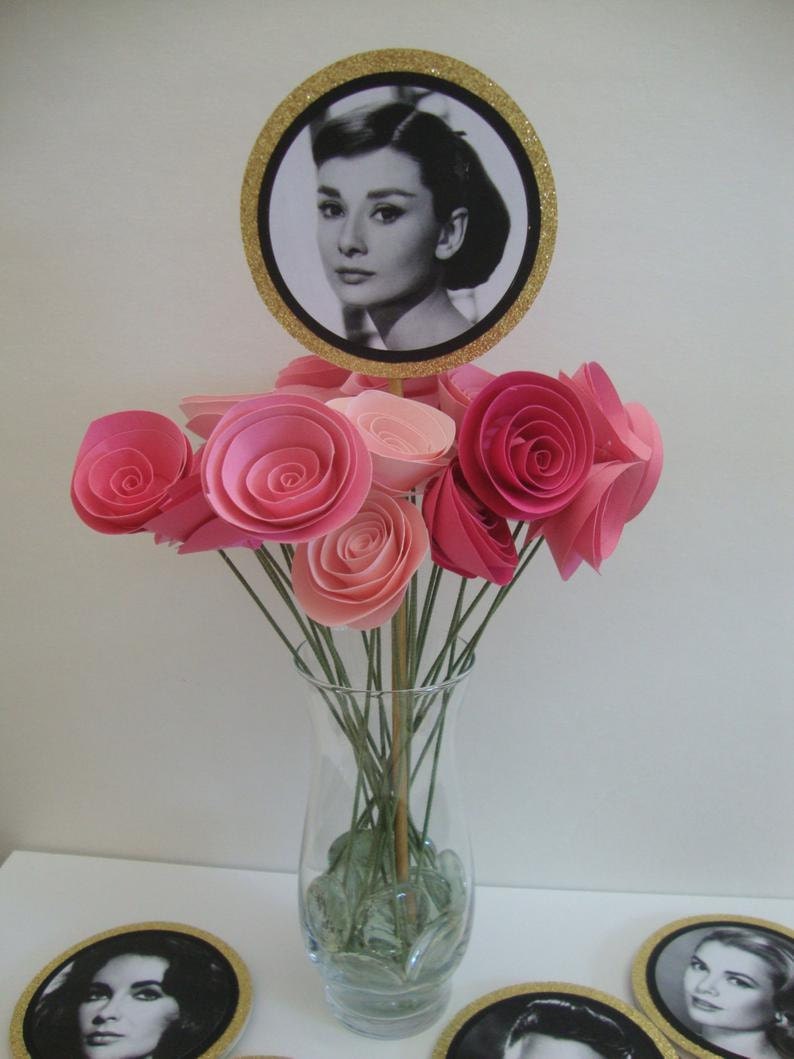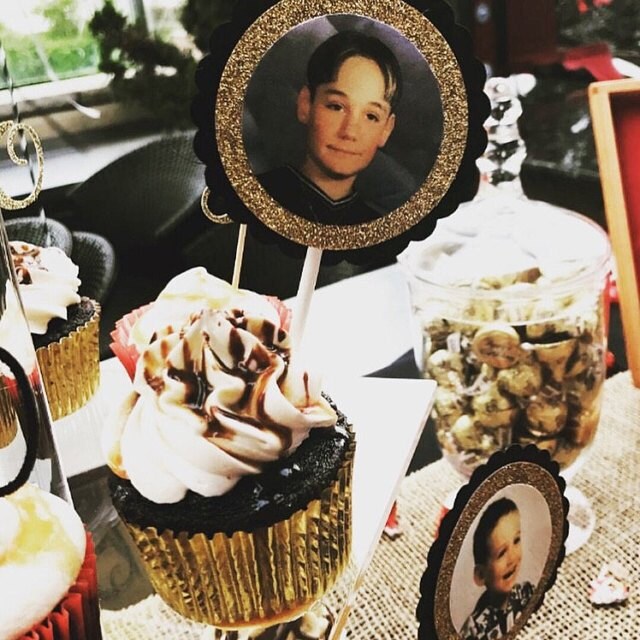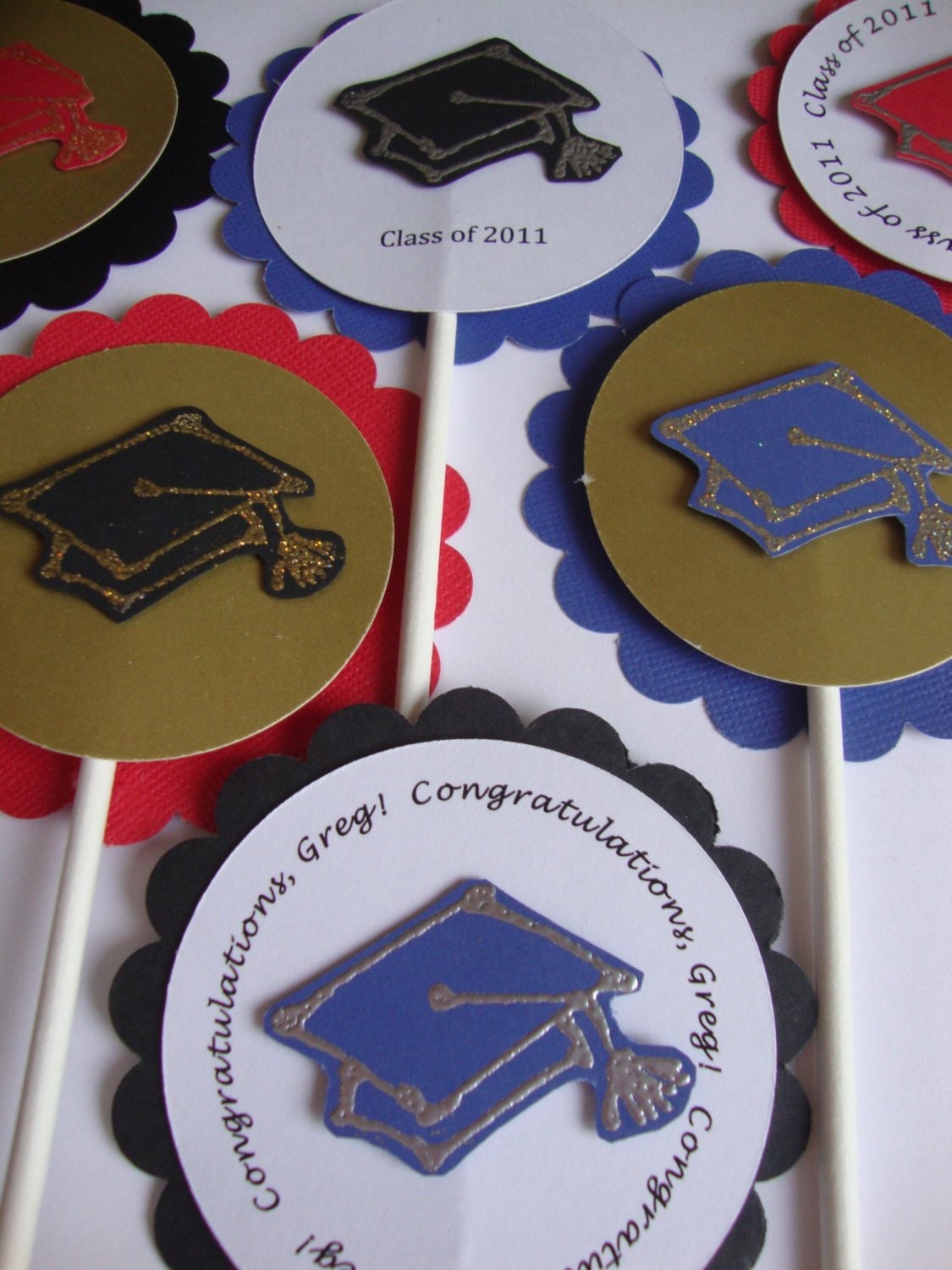 Add elements to the decor that reflect the graduate's interests
I recently had a mom ask if I could make a banner in a typewriter font in brown and green with footballs.  She also wanted cupcake topper with pictures of her son playing football.  She wanted to play up her son's interest in football and his football scholarship to college for his graduation party.
Again, this is the beauty of Etsy to be able to customize an order so specifically.  The end result, with all of her beautiful extra touches, was super special to her son and memorable to the guests.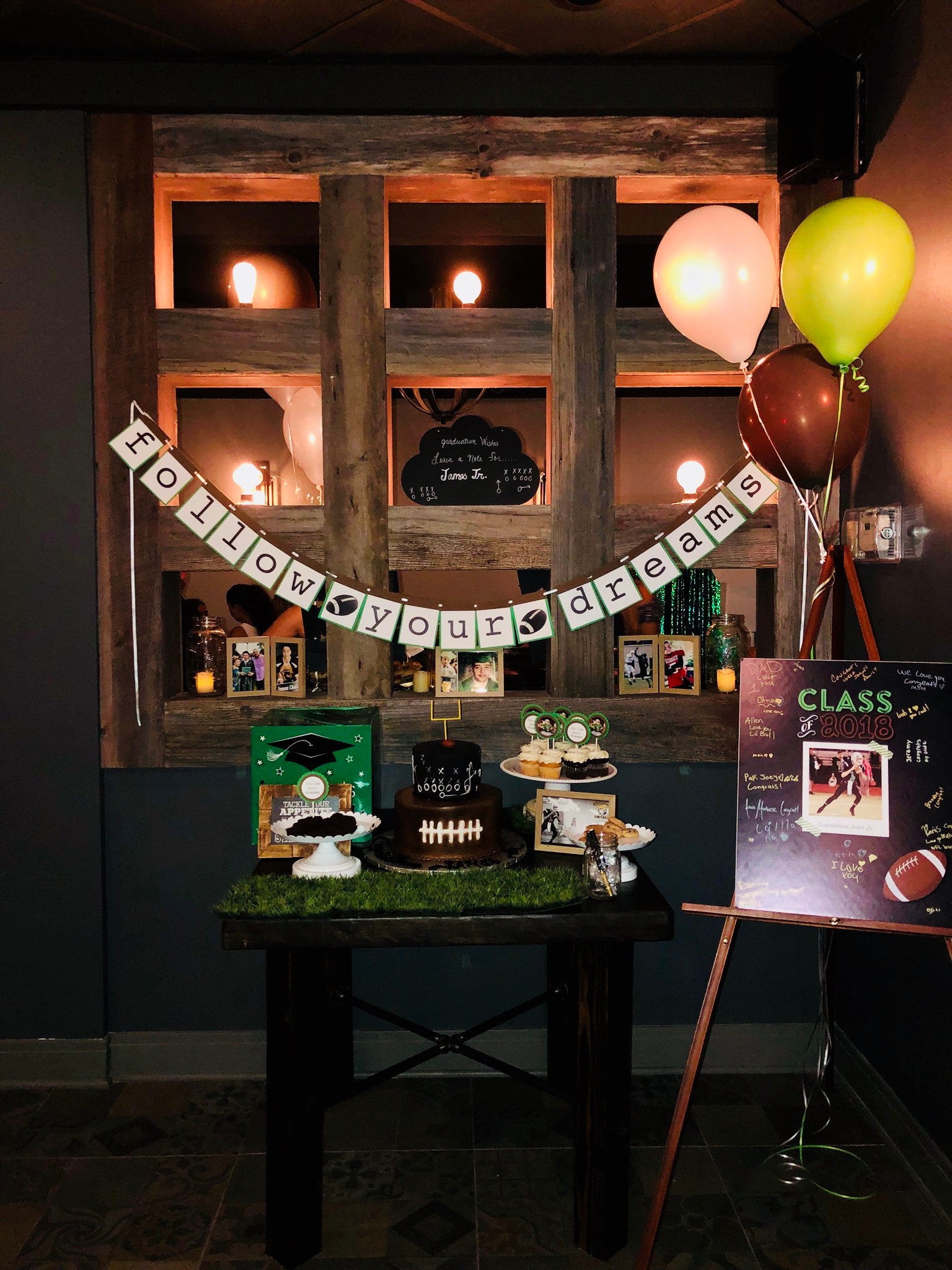 To tie all of these decorating tips to have 1-3 areas of focus where all of your decor comes together in one big display. This can be by the entryway to the party, the food table, and/or a memorabilia table with photos and a guest book.
Decorating certain spots like this make a bigger impact and tie your color scheme and party theme together better, as you can see from the pretty display below.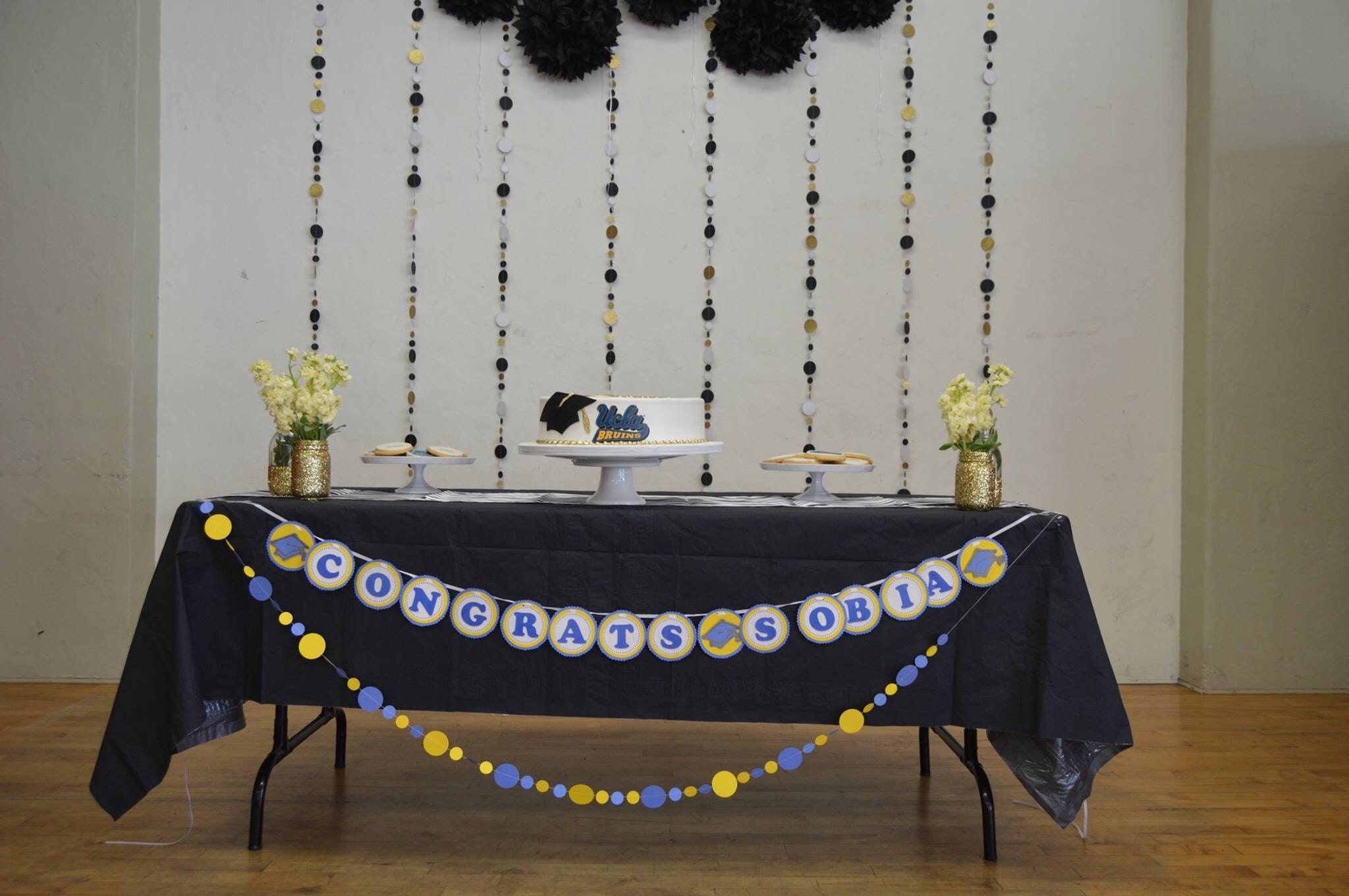 Life has beautiful moments.  Make sure to celebrate this joyous occasion well.