I love that glow parties are popular again! I love how black light magically transforms a room with its bluish glow. I also think it is super cool that a glow party can be fun for so many ages and events. It is a popular party for 10th, 13th, and 16th birthday parties, as well as for adults. It is also a great theme for homecoming, prom, and corporate parties. And, with Halloween right around the corner, what could be better than a glow party for all of your costumed guests?!
So, what are some of the best decorations that will fluoresce under black light?  Here is my run down of the eight top ideas for decor...
Note: I have added affliate links to some of my favorite tried-and-true supplies. Purchasing from them costs you nothing extra and earns me a small commission.
Neon Fluorescent posterboard
Fluorescent poster board comes in a lot of colors. Neon Pink and Neon Green are two of the most popular colors, but Neon Orange, Neon Yellow, and Neon Blue are available colors, as well. And don't forget to use plain white card stock, which glows blue under black light.
Poster board sheets can be cut to different sizes and shapes and taped to the floor, wall, and even ceilings to create a ton of glow color around the room. 
You can see here how the rectangle shapes on the party floor light up so well under black light.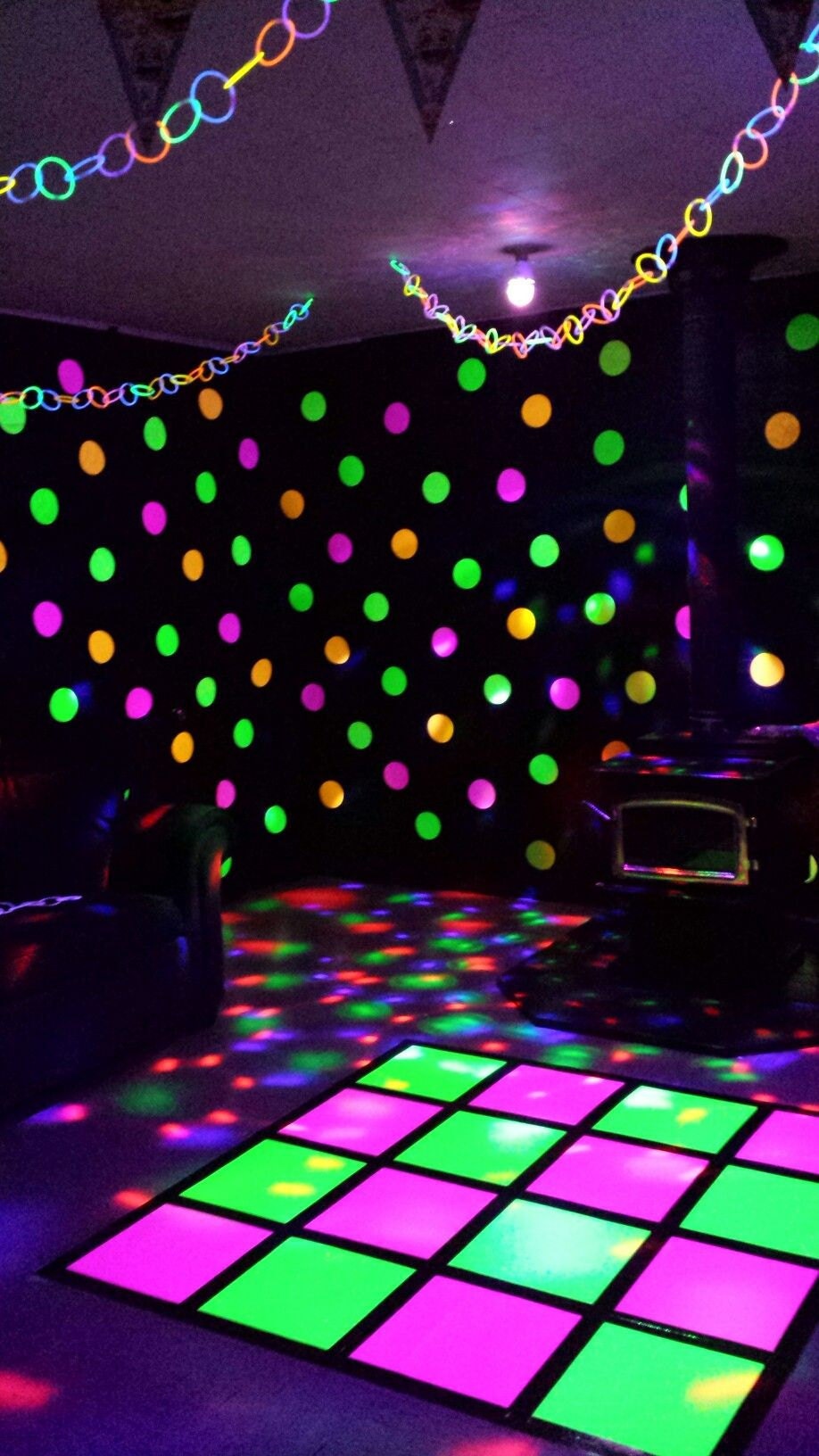 Or cut big circles or squares and tape them to the wall. You can see how cool these circles look.  Use a bowl or a glass to trace around to get perfectly-shaped circles.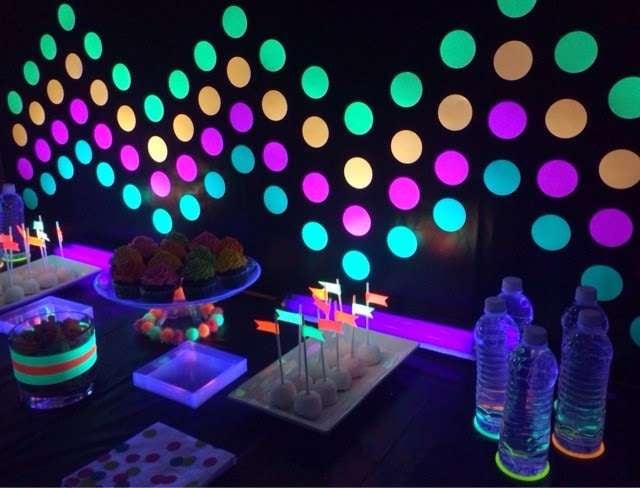 Dollar Tree sells neon posterboard less expensively than anywhere else I've searched. You can get the posterboard in bulk here: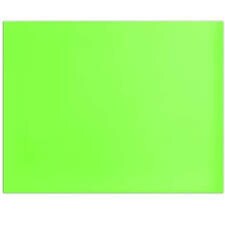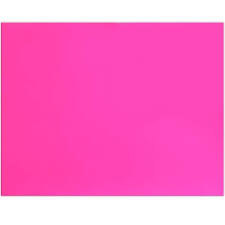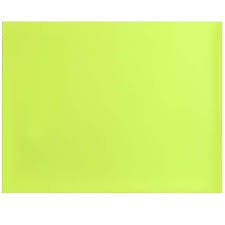 Or, even better, click here to get, for just $30, 120 pre-cut 11X14 sheet of fluorescent poster board in neon orange, neon green, neon pink, and neon yellow.  These would be super easy to use right out of the package by just taping to the floor or ceiling, or cutting into your own design.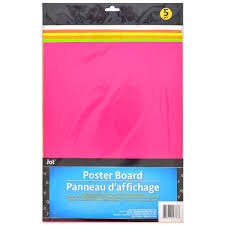 Garlands
Garlands are one of the cheapest and easiest ways to fill a large space with a lot of color in a decorative way.  If you sew, you can use the above links in the poster board section to get posterboard that you can punch shapes out of and sew together into garland strands.
My favorite punches, by far, are EK Success.  They come in a variety of different shapes so you can punch circles, stars, squares, hexagons or triangles. I have a personal preference for circles, as you can see from my listings in my shop for garlands.  This is the punch I use the most.  It is extremely versatile for creating all sorts of garlands.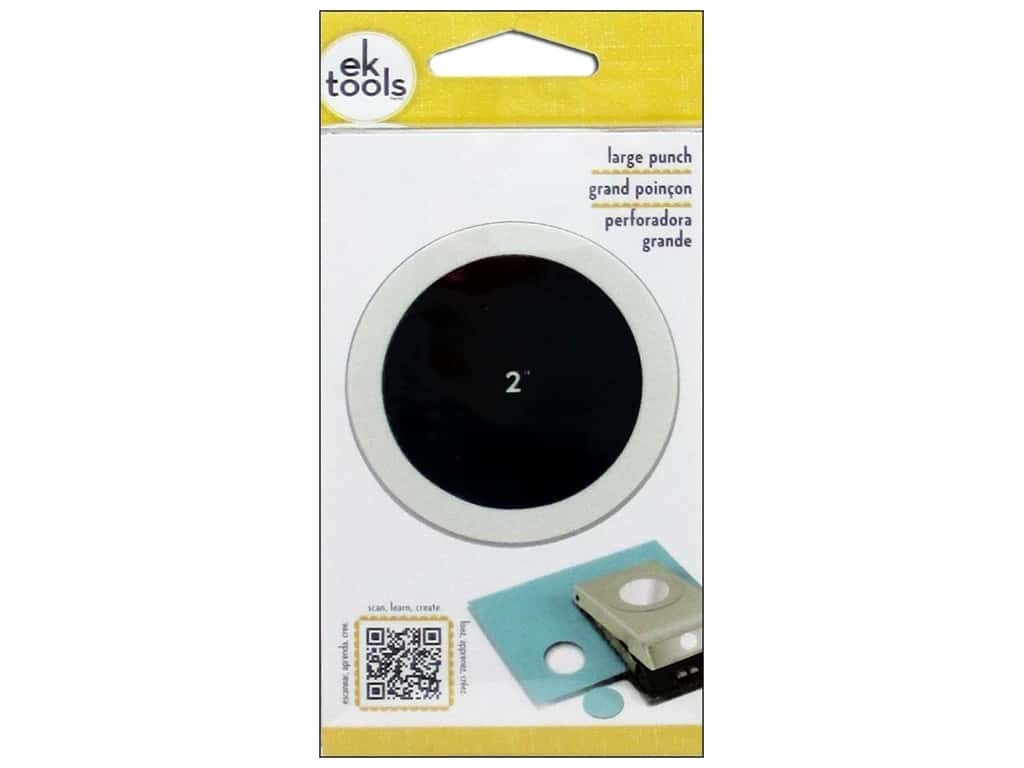 If you prefer triangles, squares, smaller circles, or other shapes, click here to see all the options.
On the other hand, if you aren't super craftsy, you probably would rather find someone else to make garlands for you.  And I would be happy to serve you!  Here are some options from my shop.  All of these garlands can be strung either draped against a wall or dangling from the ceiling.  I do all shapes. My 2" with 1" circles are the most popular, but I can do squares, stars, triangles, a combo of these smaller shapes, and even jumbo sized garlands for big impact.
Here are some pictures of the different garlands in action: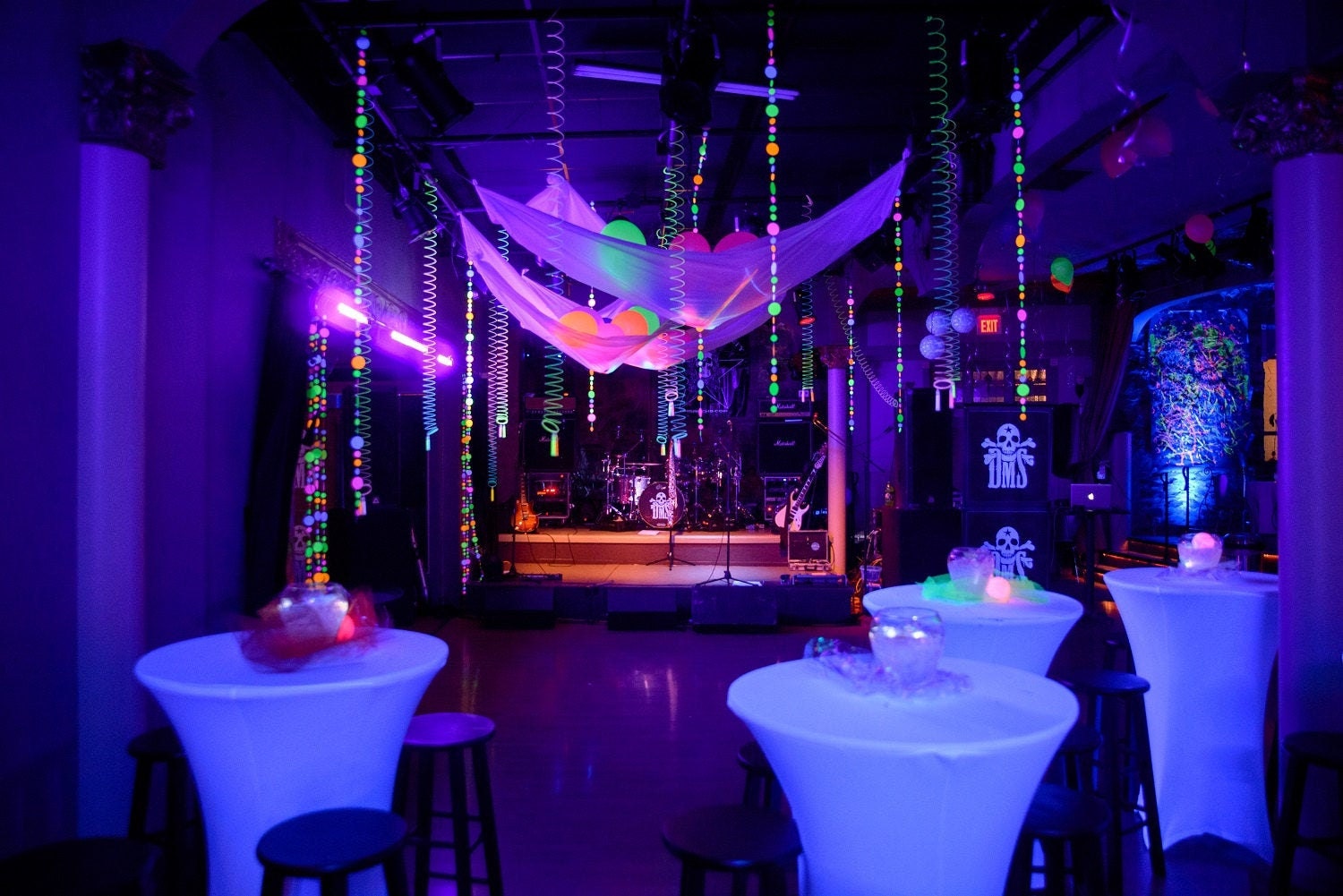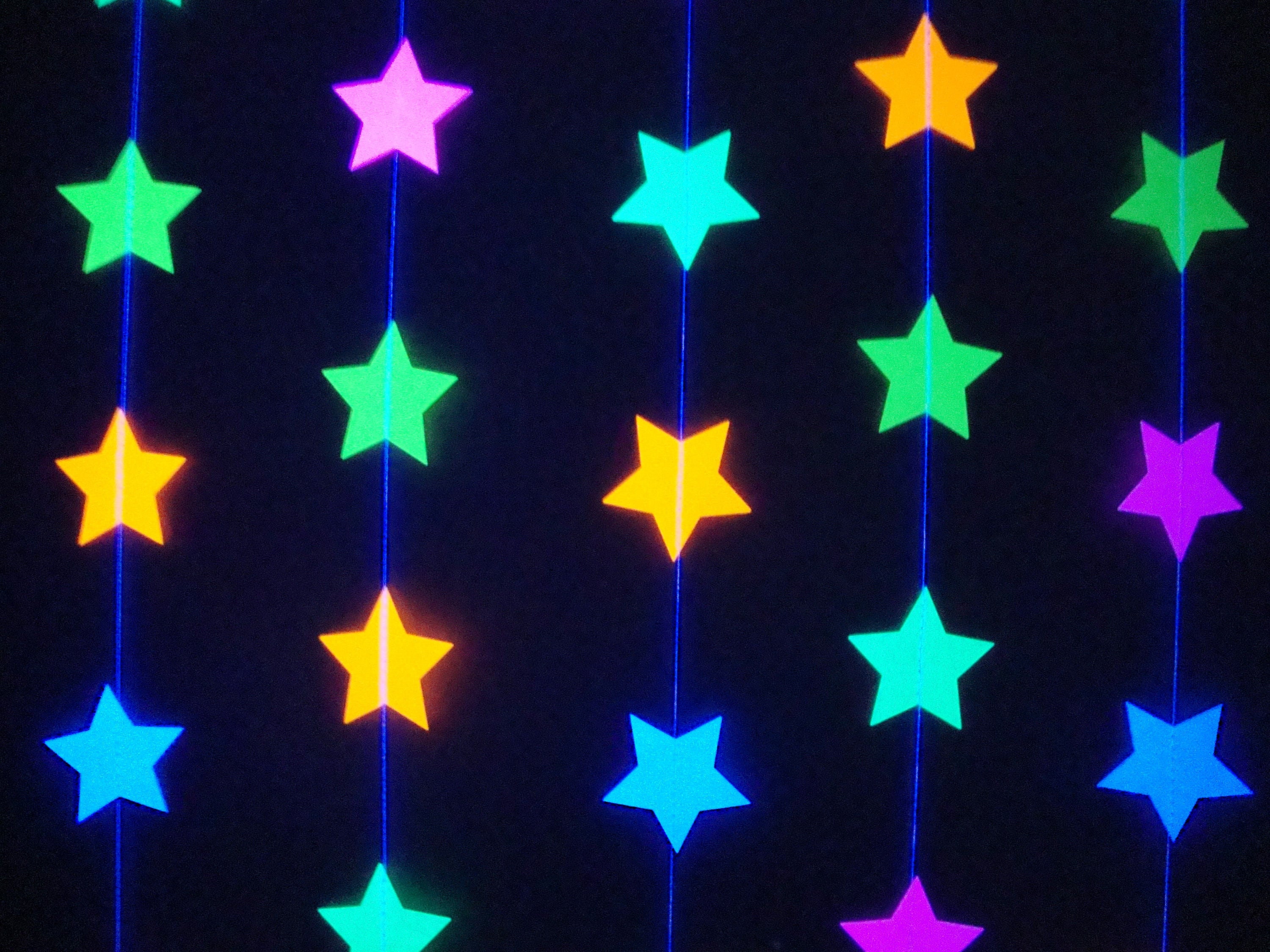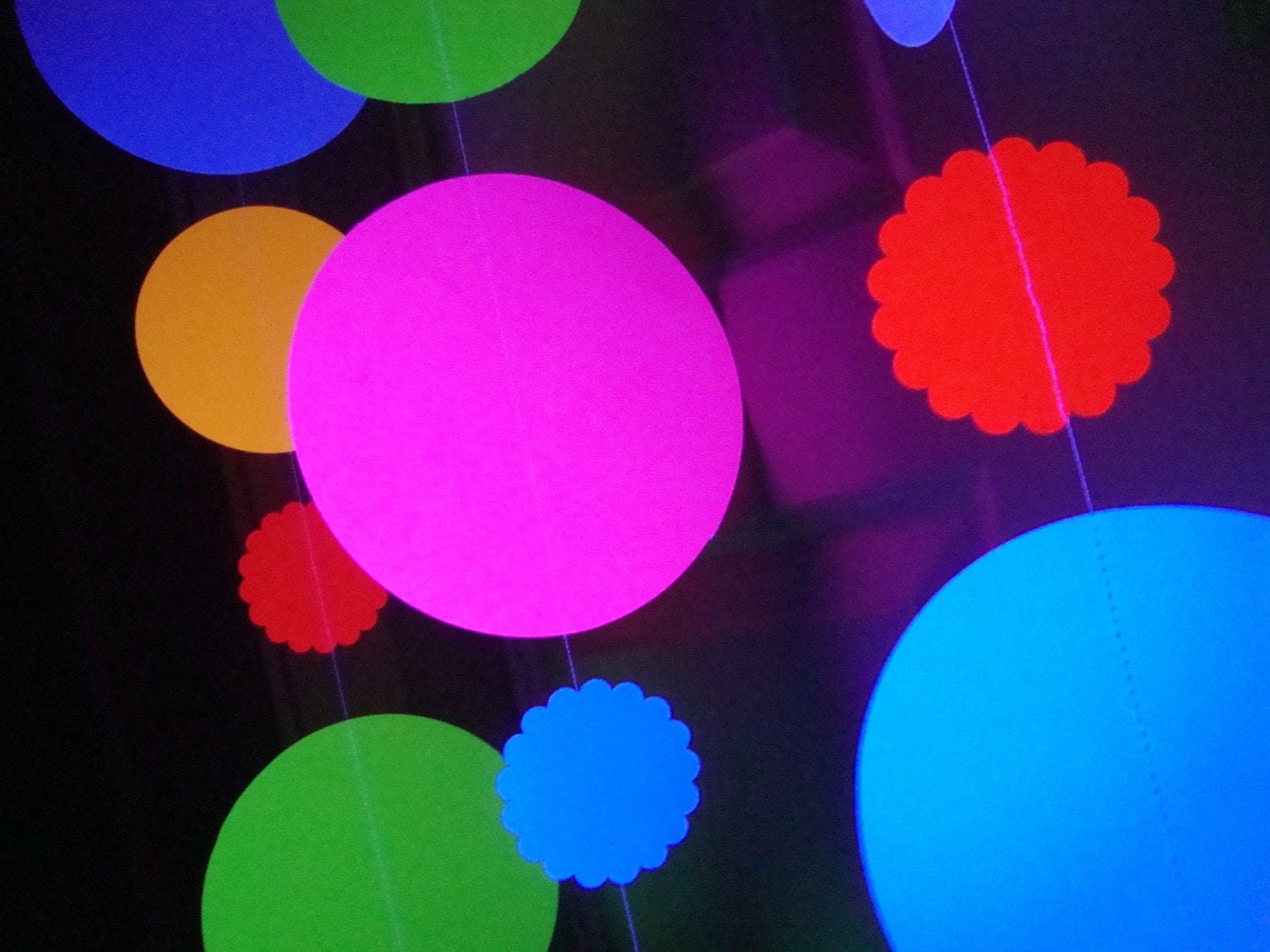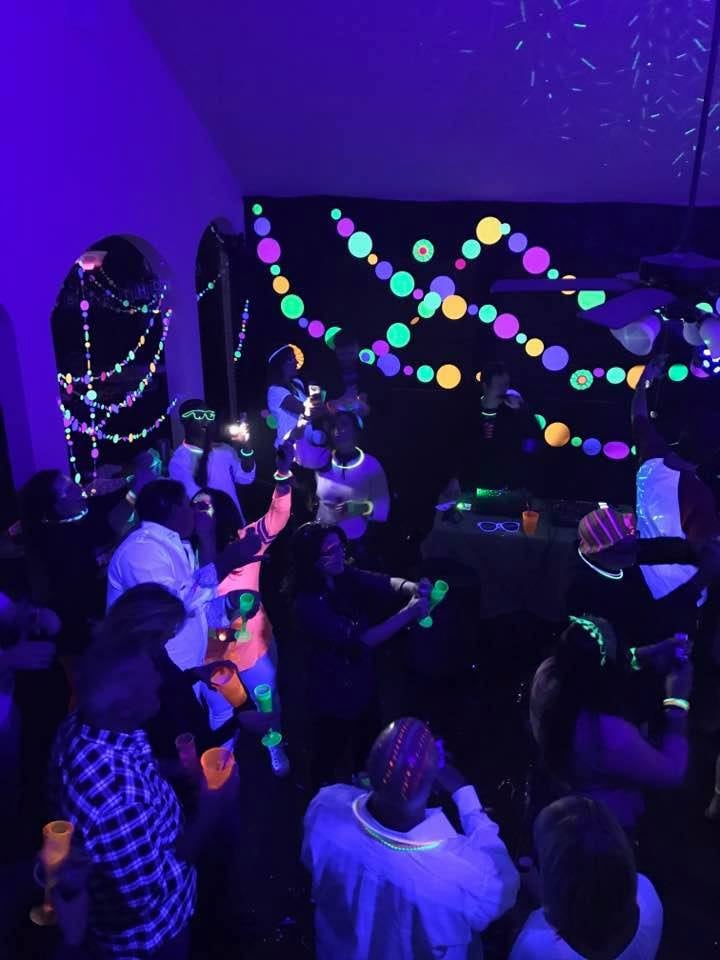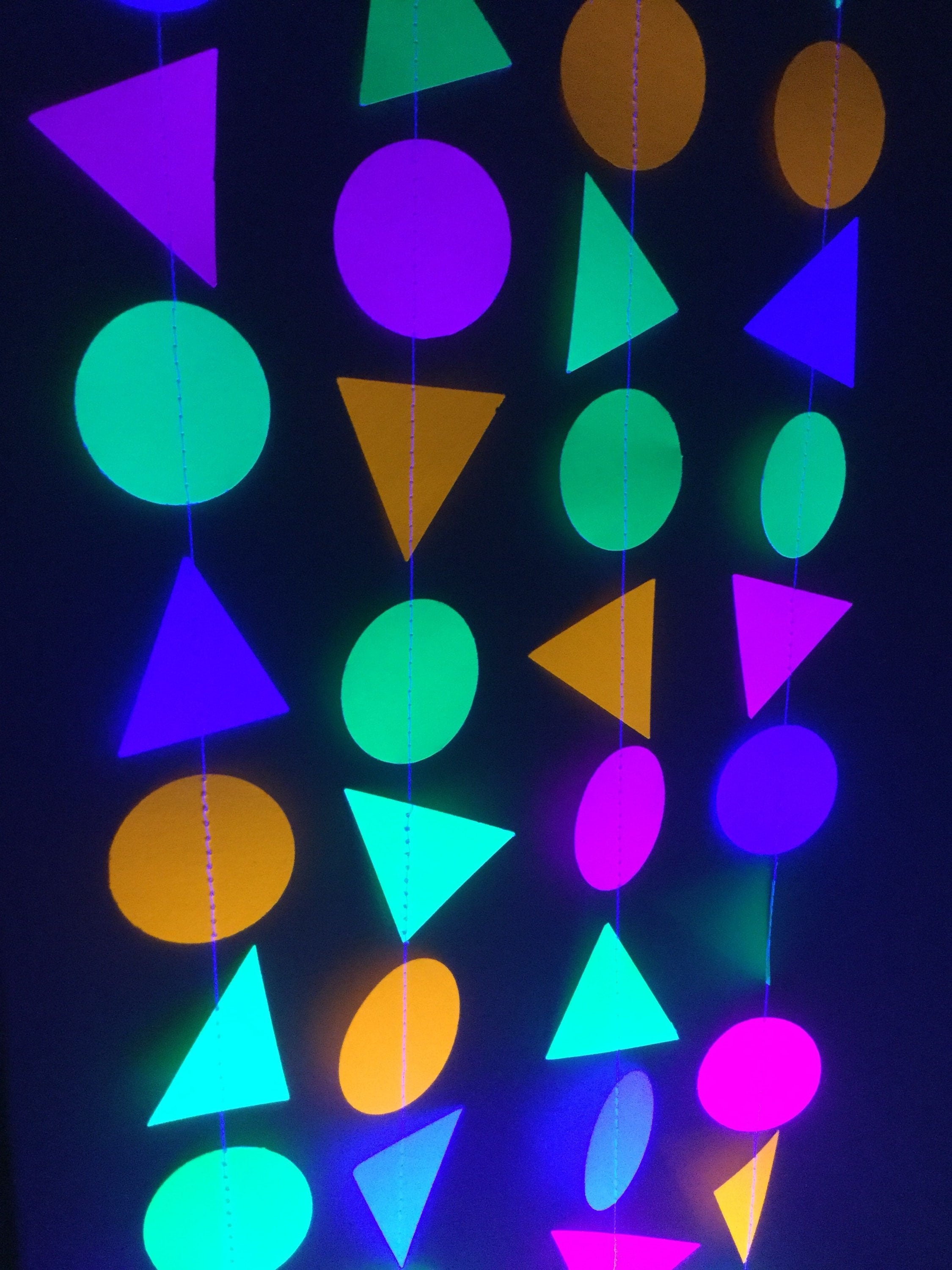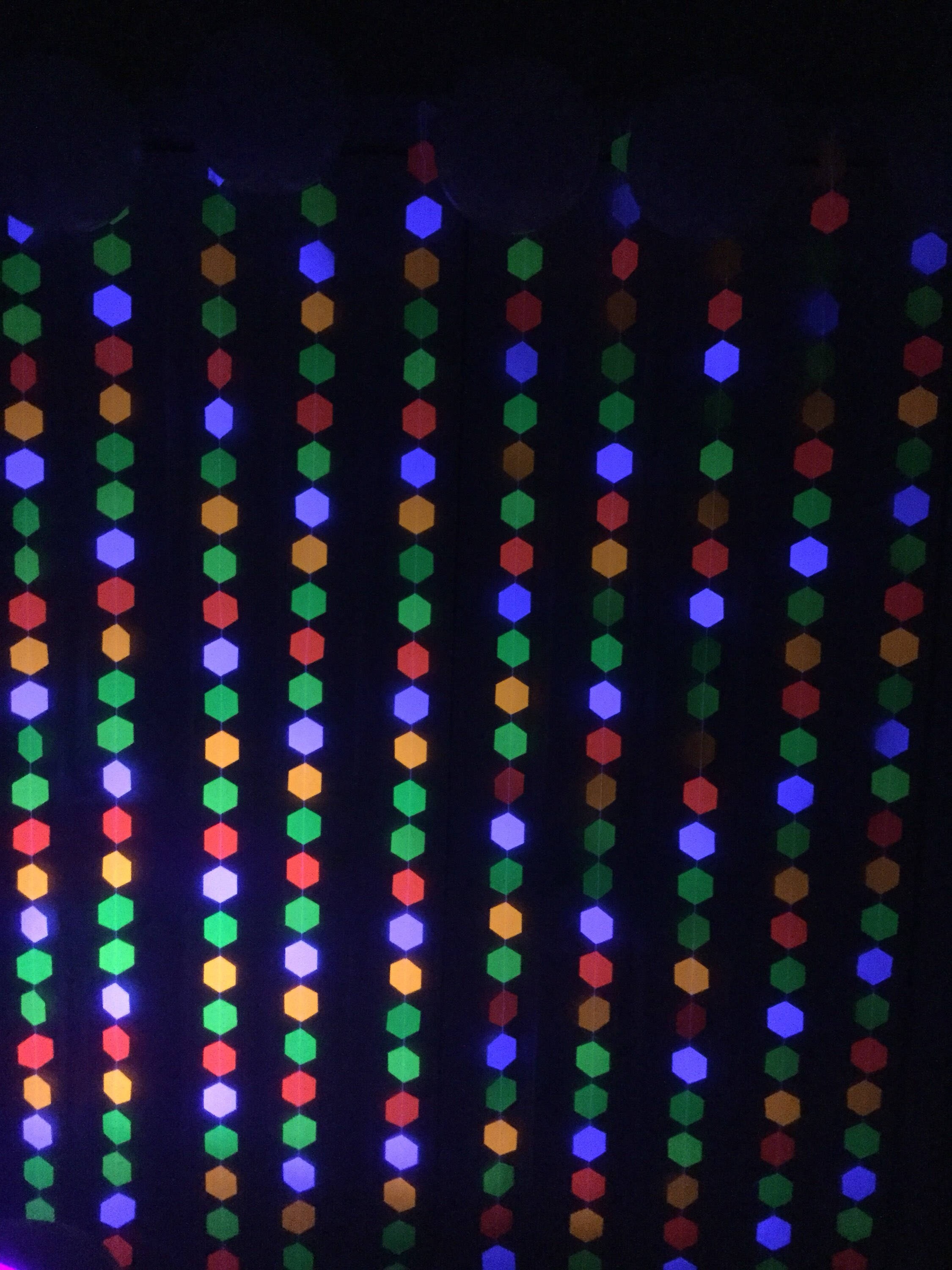 Paper Medallions/Rosettes
These decorations are great wall fillers to add a lot of color.  They work well in a photo booth or as a food table backdrop. You can attach them to the wall, or use the ribbon to attach them as dangling decor from the ceiling.
You can make your own using instructions for making paper medallions that you can find here on Youtube. Use fluorescent posterboard that I mentioned above for huge glow power!
If you'd rather not make your own, you can purchase them by clicking on this link. Here is a close up, and an action shot.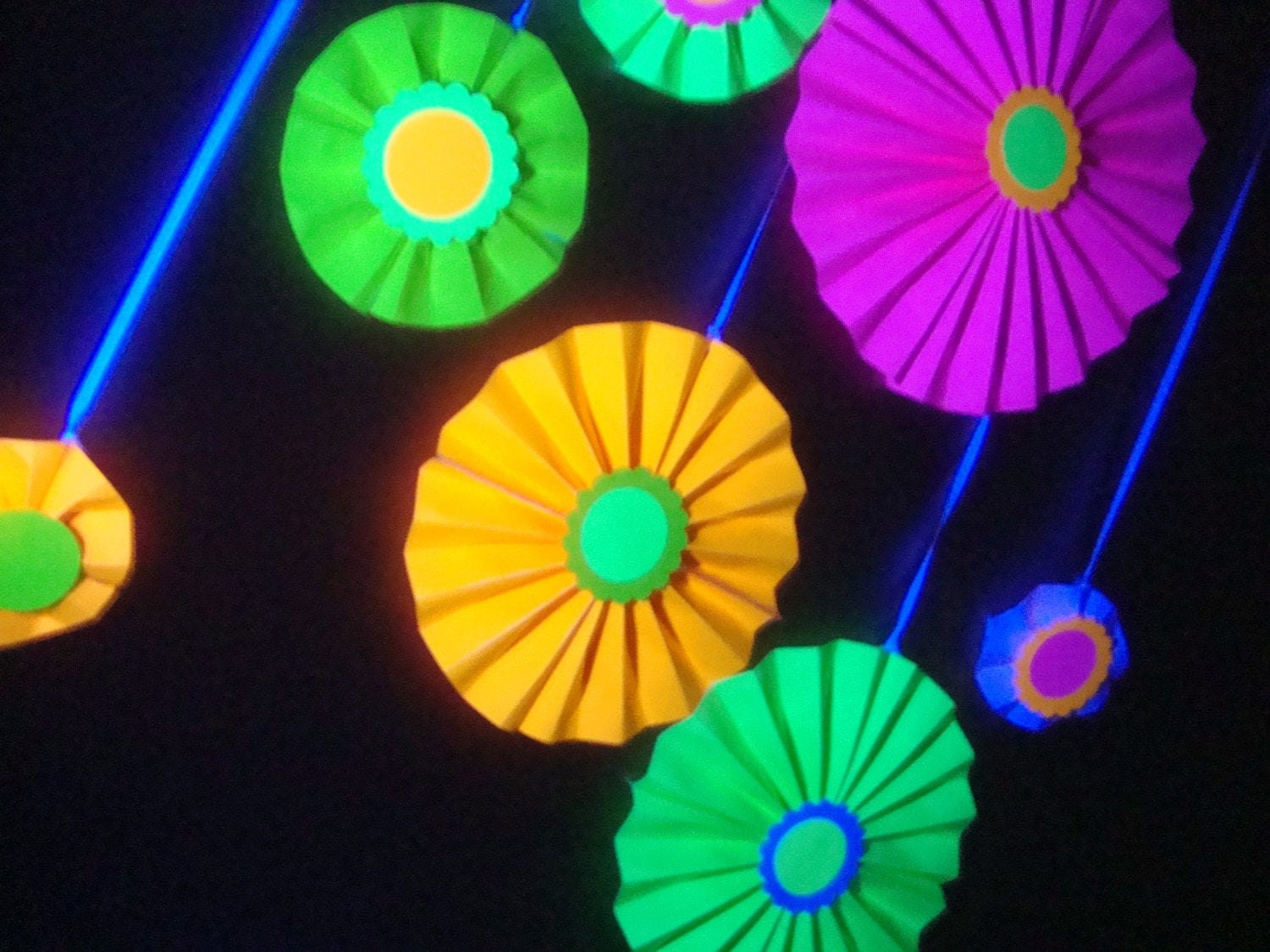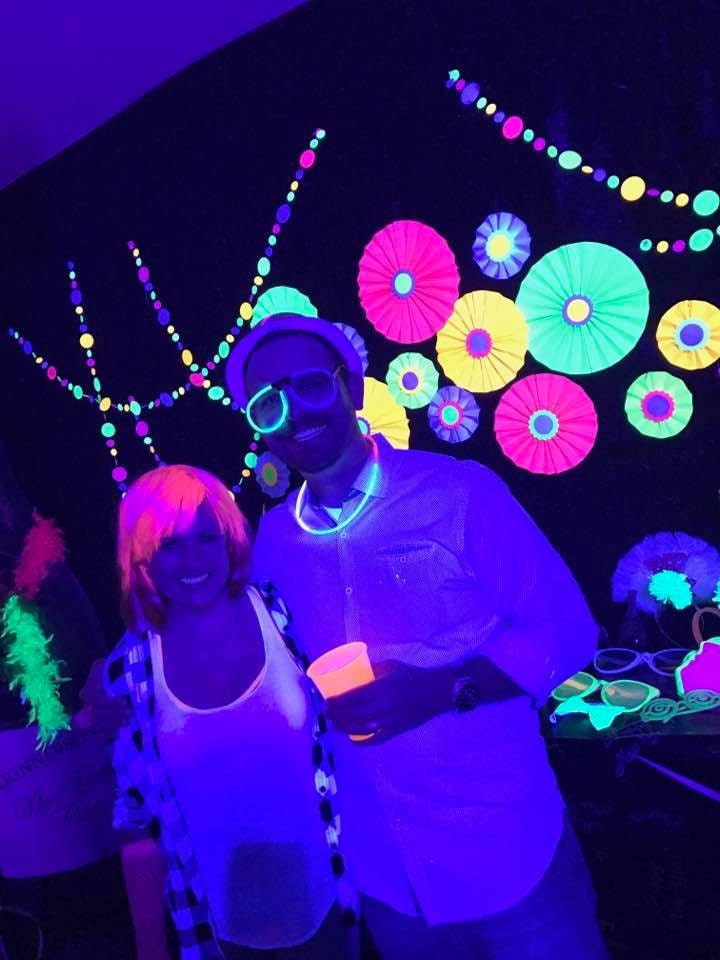 Cupcake Toppers
Cupcake toppers that glow are a pleasant surprise! Using an EK Tools shape punch (as mentioned and shown above under Garlands), you can make your own toppers. Or use the one shown here with the scallop edge for a special touch.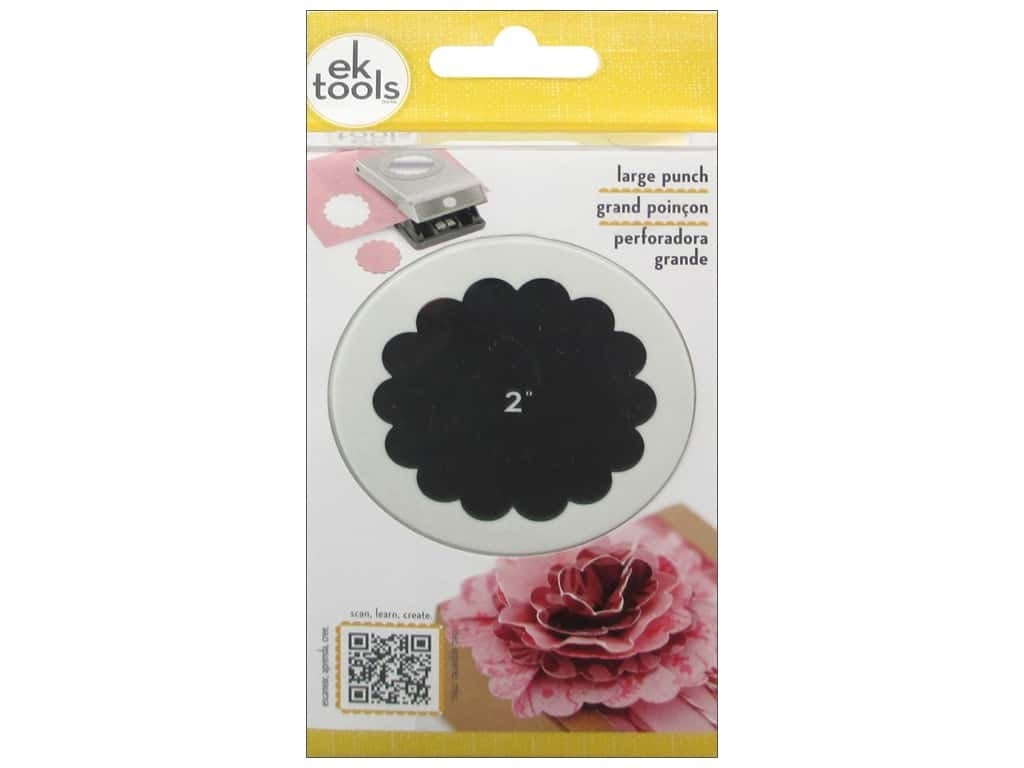 Just attach a punched out circle to a cake pop stick using a hot glue gun.  Use black sticker numbers to put your child's age on the toppers. Attach a scalloped circle with hot glue onto the back to finish them off.
I also sell these in my shop. Black numbers (your child's age) on white look best, but I can even do a black and white photo of your child back with different combinations of fluorescent posterboard.  The photo glows blue-ish under the black light.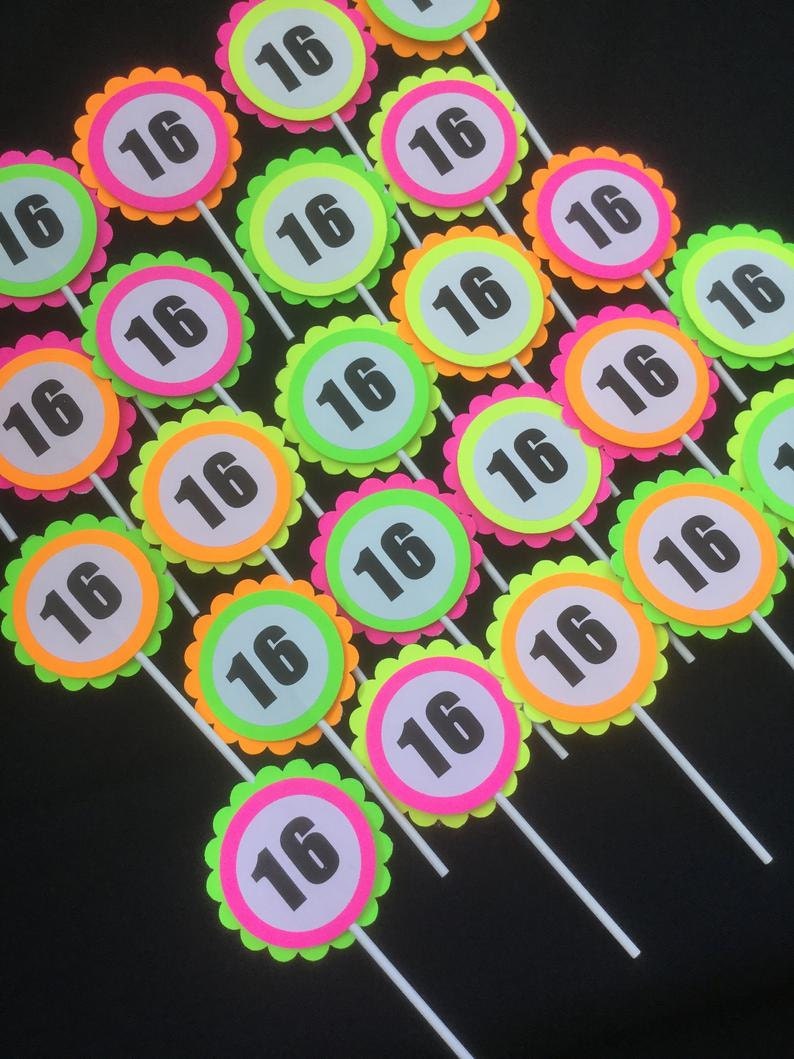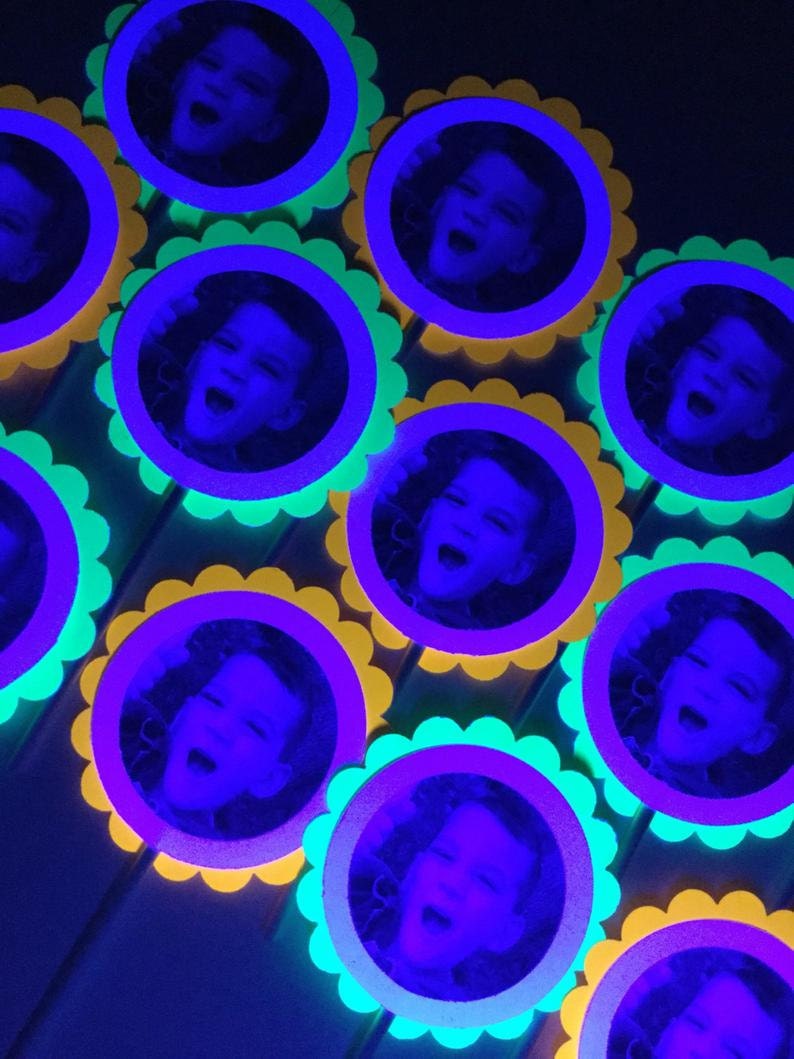 Balloons
Balloons are another great way to fill a lot of space with little effort. Use a helium tank if you want the balloons floating. But you can even just blow up a bunch of balloons with air to have bouncing around the dance floor.  Either way, be sure to put a glow stick in each balloon so they really light up and create a fun environment.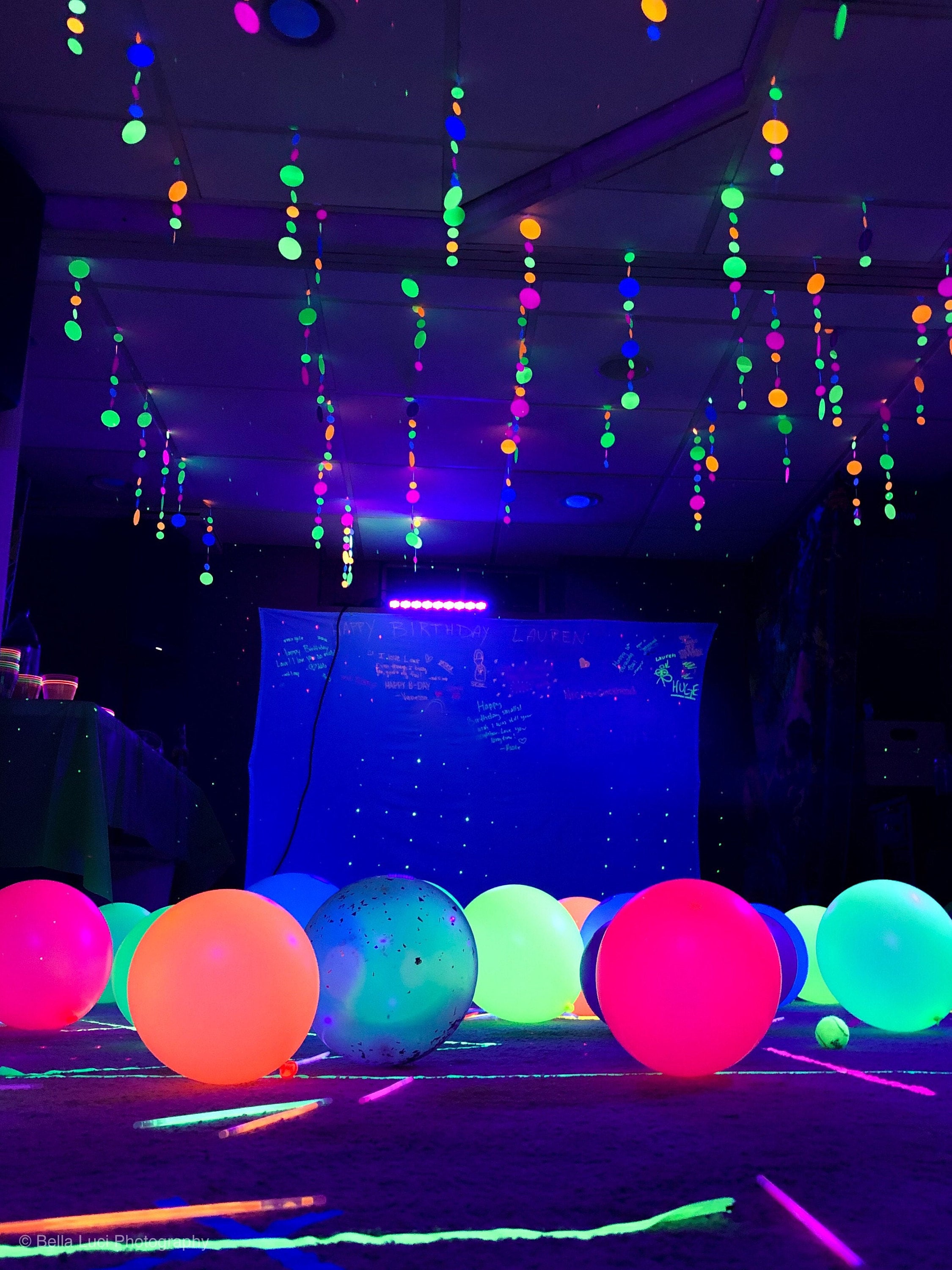 And speaking of glow sticks...
Glow Sticks and Necklaces
Don't forget to load up on the glow sticks, glow bracelets and necklaces, and glow wands or light sabers! Everyone is going to want several to wear or to play with. The best place to load up on all things glow is Dollar Tree, where you can get items in bulk for a decent price. 
I love glow bracelets and necklaces, especially, as part of the decor because they are the one of the only items, besides balloons, that you want your guests to touch and play with. Glow bracelets and necklaces allow guests to be creative as they bend them into glasses, belts, headbands, etc.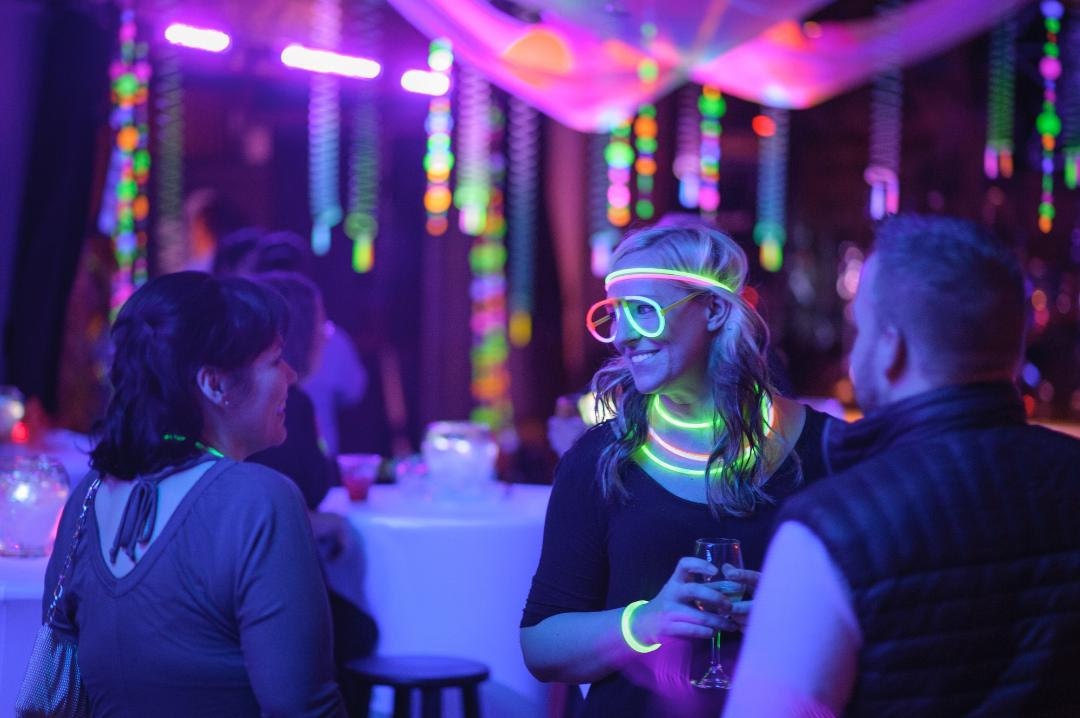 Banners
Banners, like cupcake toppers and centerpieces, are special additions that add that extra personalization to a party. Banners can be created with a name or age to add to a HAPPY BIRTHDAY banner, or they can be made with a completely different saying. I use my Sizzix Big Shot along with 3.5" All Star alphabet letters or a smaller 1.5" alphabet collection to make my banners.
Here are some of my favorite styles of banners:
HAPPY BIRTHDAY with added name in 3.5" letters with polka dots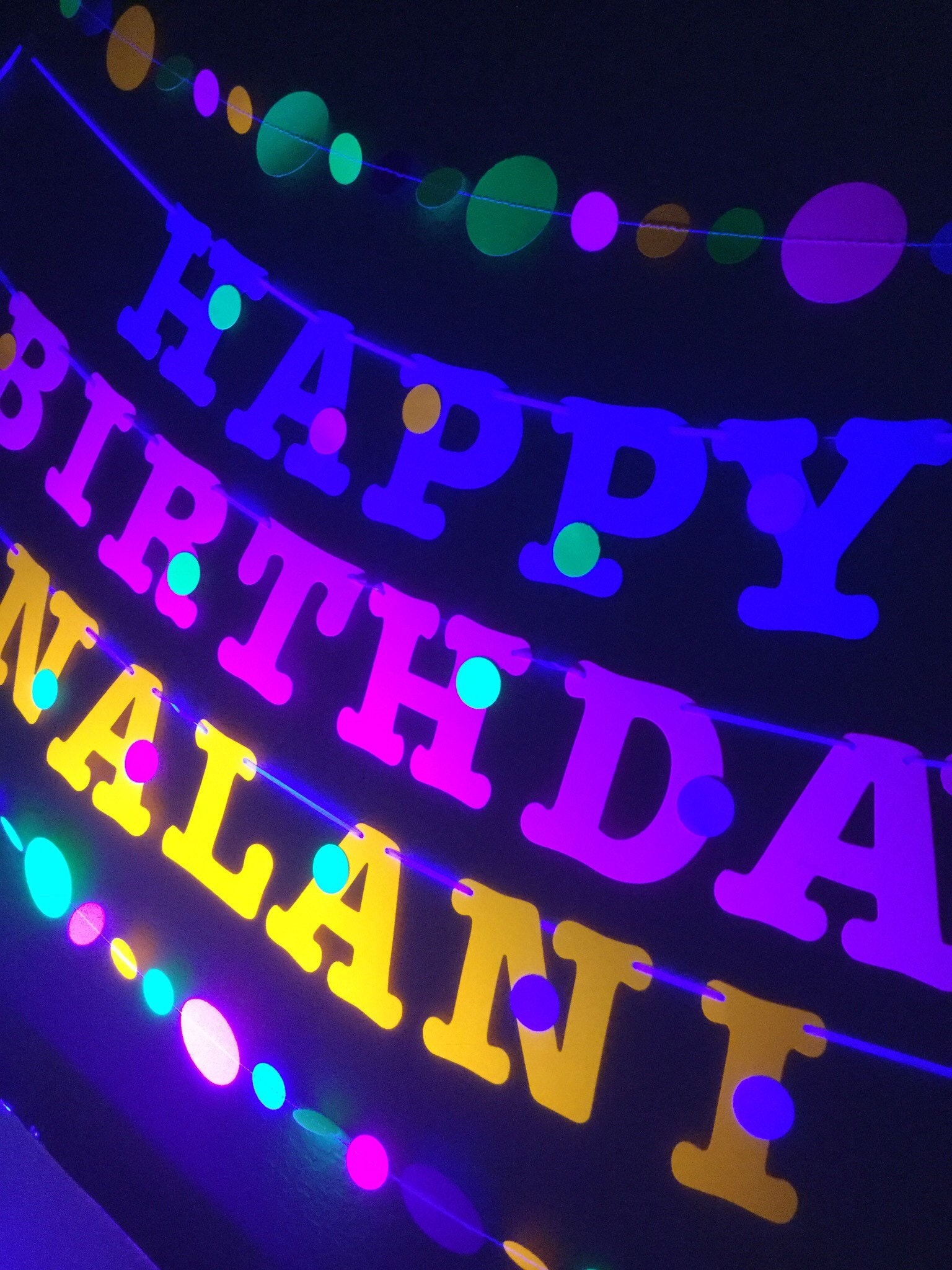 Jumbo 8" circle banner with 3.5" letters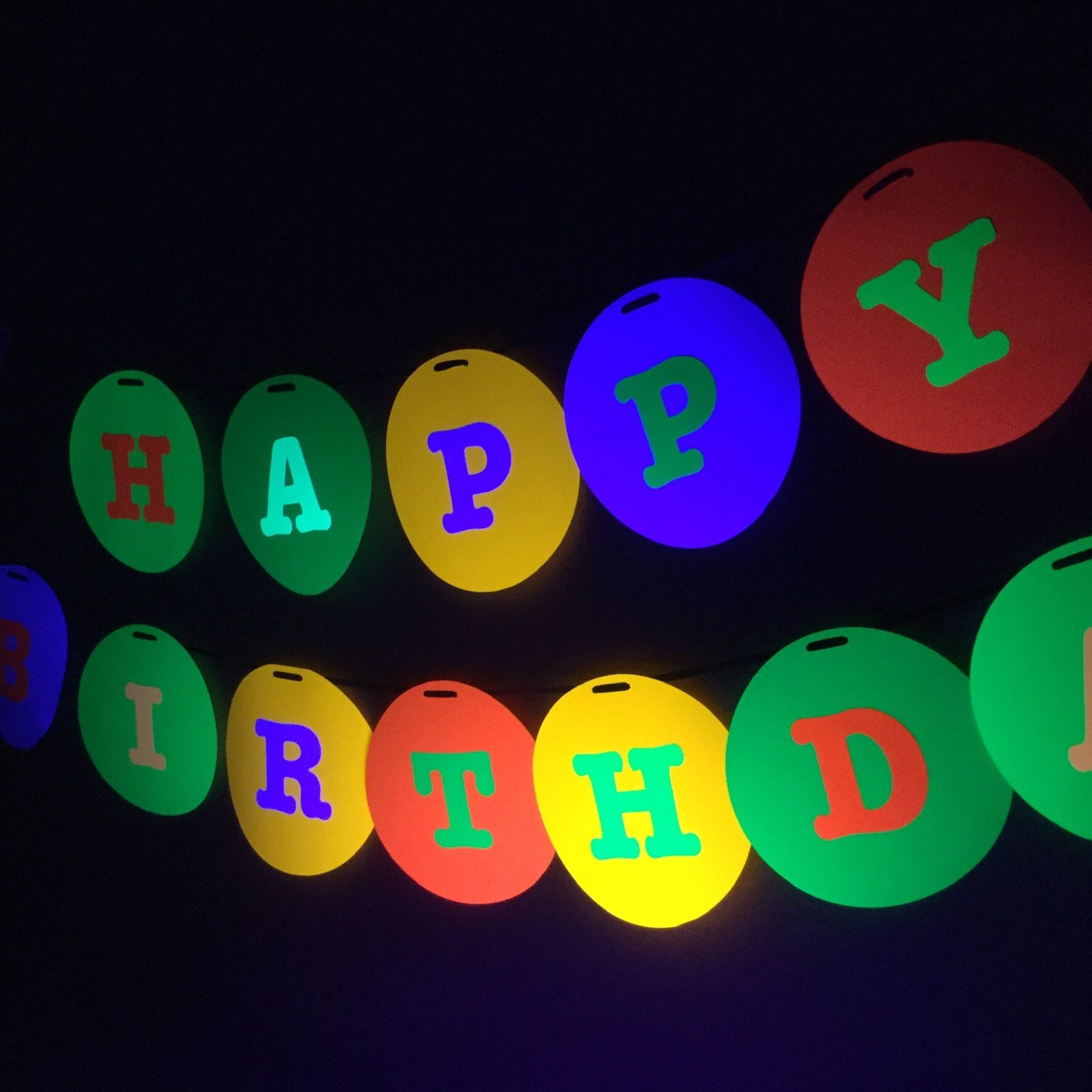 Scalloped Circle garland with 4" circles and 2" letters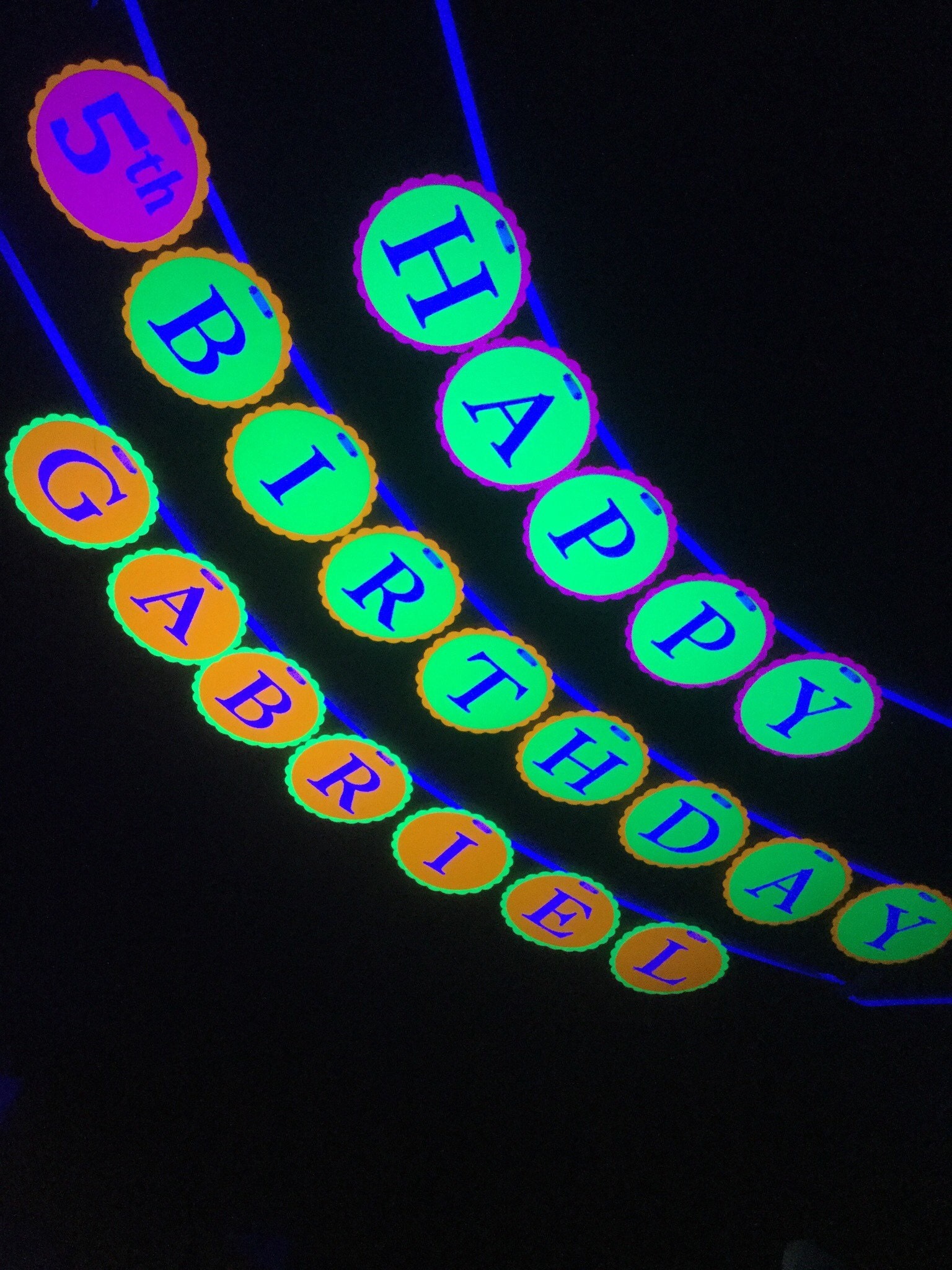 Photo Booth banner in 3.5" Sizzix All Star letters with stars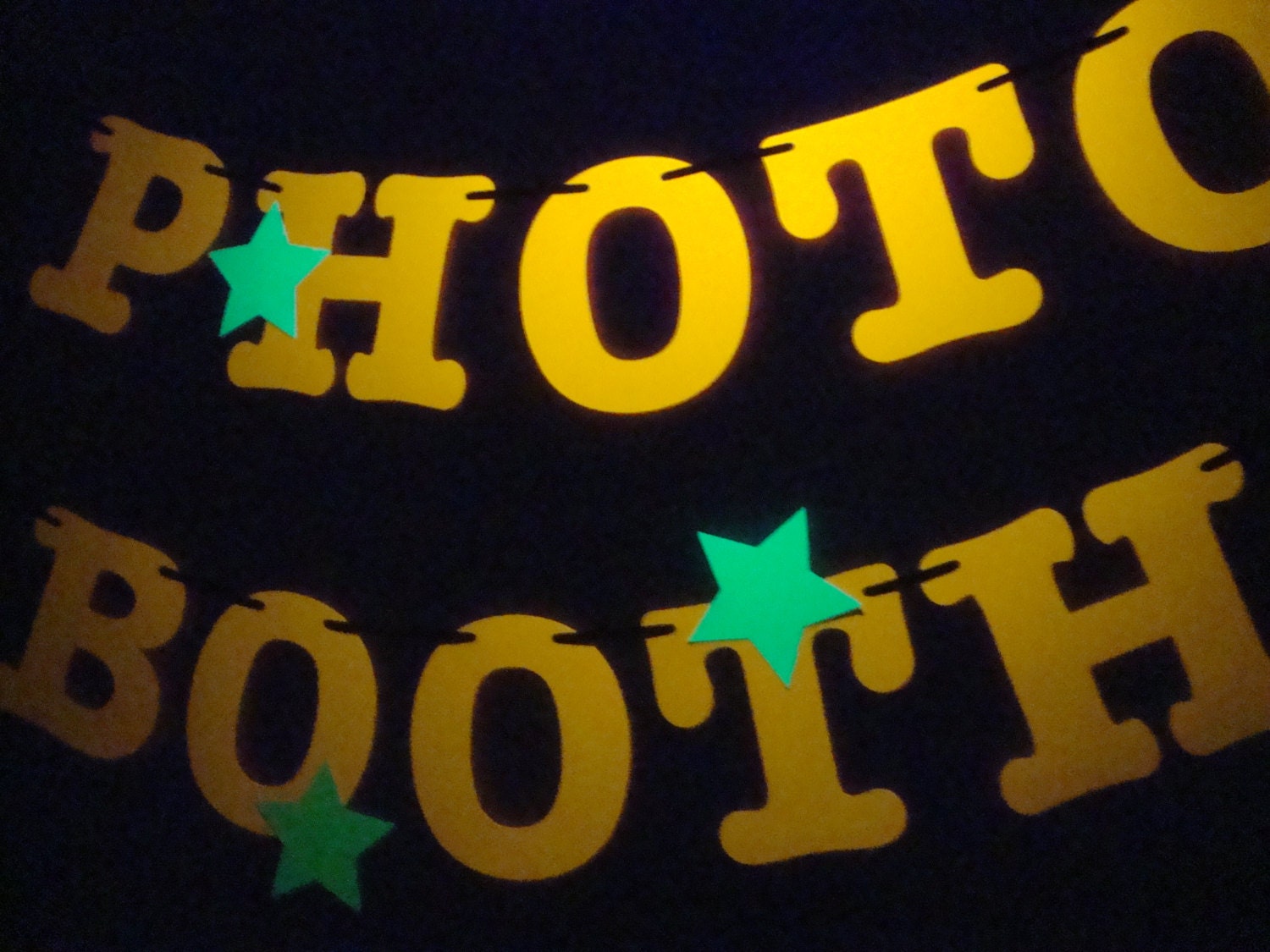 And finally, don't forget to include, on your food table or gift table, a personalized...
Centerpiece
Here is a set of three medallions on sticks that I make in my shop. You can personalize with the birthday guest's name or age.  The centerpiece is made from one 8" folded paper medallion with an age or name in the middle, and two 5.5" medallions on the side with stars or flowers (your choice). They look great glowing on the food table, or displayed elsewhere in the room at a gift table or picture display table, for example.  They look great by day light or black light.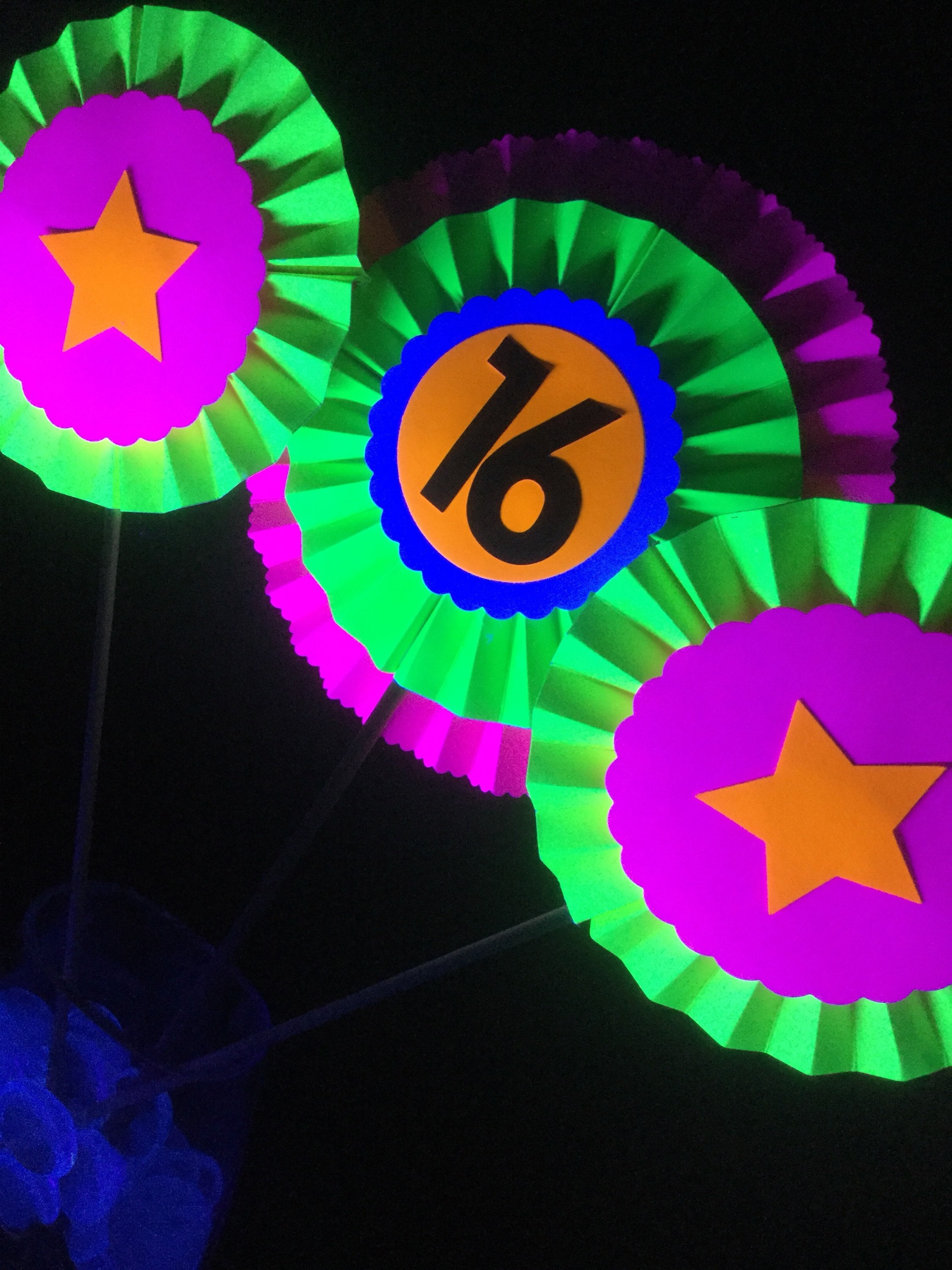 Enjoy all these ideas for making your party colorful, bright, and fun! I hope your party is a huge, glowing success.